Is your audio interface plugged in and powered on, but not detected by Pro Tools? When using Pro Tools, be sure that the drivers are installed, Playback Engine assigned and I/O Settings reset. Read below to synchronize your interface with Pro tools.
Drivers
If you're having trouble getting your audio interface to work with Pro Tools, make sure you have downloaded and installed the latest drivers for your device. These can be downloaded at the manufacturer's website for whichever interface you may be using.
To check that your interface is detected by the computer, follow the directions below for Mac and PC.
Tech Tip: A device may not synchronize correctly is the appropriate driver is not installed. If your device is not detected, download and install the driver which the manufacturer recommends is best compatible with your computer. 
macOS
1. Click the Apple icon, hold the Option key and choose System Information….
2. To locate the interface, under Hardware, select the format in which your interface is connected (e.g. USB, Thunderbolt, FireWire).
Windows
1. Right-click the Windows icon, and choose Device Manager.
2. Your interface's connections will appear under Audio inputs and outputs.
Playback Engine
Once you've installed the driver, make sure your Playback Engine settings are correct within Pro Tools. The Playback Engine can be found in the Setup menu. Open up the Playback Engine menu, and select your interface from the drop down menu. Click here for a video that will show you how to do this.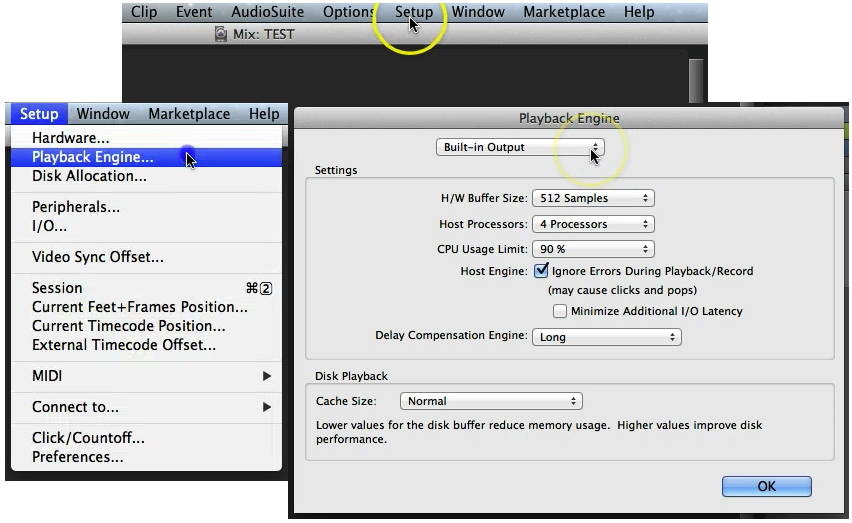 I/O Setup
Next, verify that your I/O settings are correct. These I/O Setup window is also be found under the Setup menu. If you're not sure what to do here, pressing Default in the Input, Output, and Bus tabs is a great place to start. That should automatically map your I/O settings. From here you can make any changes you need to. Here's a video that will show you how to reset the I/O.

Helpful Links
Pro Tools Troubleshooting Guide
How do I trash my Pro Tools preferences?
Pro Tools tells me that "The current playback engine does not support a sample rate of…"
Intro to Pro Tools: How to Export Your Mix
Intro to Pro Tools: Creating and Recording a Track