Exclusive Sweetwater Events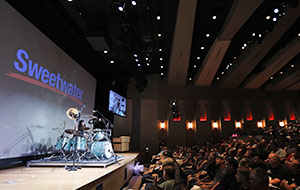 There's always something fun and exciting happening here at Sweetwater! In the past few years, we've hosted clinics and workshops featuring everyone from world-famous producers including Alan Parsons and Chris Lord-Alge to legendary musicians such as Joe Satriani, Adrian Belew, Chick Corea, and Victor Wooten. Best of all, these events are open to the public. We're absolutely delighted to invite you to join us and make these events as wonderful and memorable as possible. On this page, you'll find details and registration information about upcoming events, so check back often.
Register today, or feel free to call us at (800) 222-4700 for more information.