The Largest On-site Inventory of Any Music Store in the US!
When you're ready for new gear, there's no better place to shop than Sweetwater's newly expanded Music Store. We've got a brand new space that's jam-packed with all of the latest gear, and it's all designed to make your shopping experience more enjoyable. We have over 400 guitars on display from Fender, Gibson, PRS, and many other top names, as well as an assortment of amplifiers and a gorgeous display of stompboxes. Acoustic guitars, including models from Gibson, Martin, Taylor, and others are also available, and our bass selection is second-to-none, with instruments from Fender, Music Man, Lakland, and more. And what's more, you can run your new instrument through its paces in any one of our demo areas.
In the studio section, you'll find the pres, processors, and recording software that everyone's raving about, not to mention an awesome display of microphones. Looking for live-sound equipment? Check out the latest mixers, loudspeakers, and other sound reinforcement gear on display. You'll also find a dedicated drum room, a vast array of keyboards from Roland, Korg, Yamaha, and more, and one of the most inviting piano showrooms you'll ever encounter. On top of that, Dave's Music Den is on hand to meet your sheet music needs.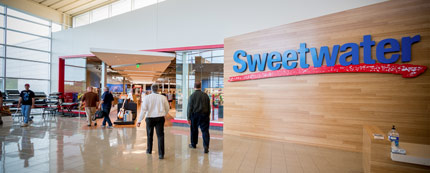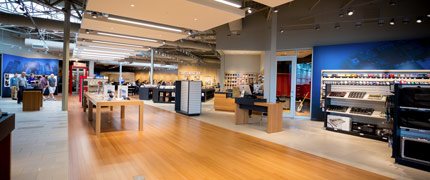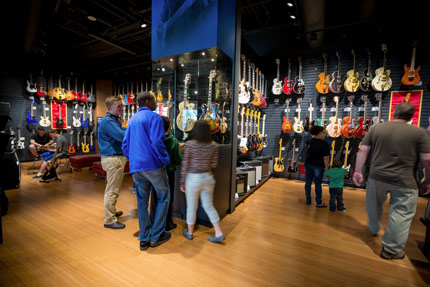 And if you still haven't found what you're looking for, Sweetwater has the largest on-site inventory of any music store in the country, thanks to our 100,000-square-foot climate controlled warehouse that is just steps away from our store. Simply pull up an item on one of our large Digital Warehouse display screens, and we'll deliver your requested item in just minutes. And no matter what you need, our knowledgeable and attentive staff will answer your questions and help you find the right gear for you.
Stop in and see our newly expanded store at Sweetwater!
New Demo Areas
New Piano Showroom
New Drum Room
Expanded Guitar Rooms
Digital Warehouse
and Much More!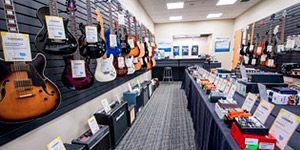 Find New Deals Daily at the Sweetwater Gear Exchange
Located within Sweetwater's breathtaking campus, the Gear Exchange is packed with amazing deals on overstocks, demos, and closeouts. Our constantly changing inventory of guitars, amps, keyboards, drums, and much more ensures that you'll discover new deals all the time. And you can sell your old gear or trade it in for credit to use in the Gear Exchange or Sweetwater Music Store. Stop in and chat with one of our Gear Exchange experts. They'll be happy to help you transform your old stuff into the gear you really want.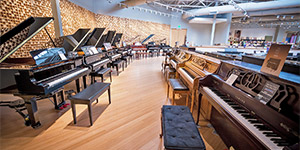 Find the Perfect Piano at Sweetwater!
In Sweetwater's new Piano Showroom, you'll find the piano you've always wanted. As the official Yamaha acoustic piano dealer for Northeast Indiana, we offer an impressive variety of breathtaking instruments. We also carry Yamaha's Clavinova home piano line, and an excellent selection of digital home pianos. Sweetwater's new Piano Showroom is as comfortable as any place you'll ever stumble upon. There's even a cozy lounge in the back corner centered around a Yamaha Disklavier! Learn more here.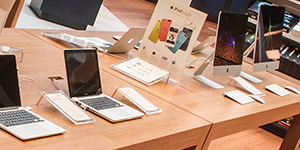 Your Source for Mac Computers
Sweetwater has more Apple computers on display than any other store in the region. Whether for audio, video, or any other application, you'll find the ideal Mac for your needs. We're an Apple Value Added Reseller, which means we can help you put together a Mac-based setup for your needs.