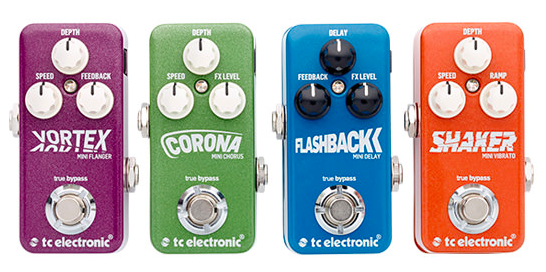 Looking for larger-than-life guitar sound with a smaller-than-small footprint? Then check out the new Mini-Pedals from TC Electronic! Following in the path of previous TC "bantam"-sized pedals such as the HOF Mini, Spark Mini Booster, Ditto Looper, and PolyTune Mini, the four new pedals pack all the power of their full-size brethren, including TonePrint capability, so you can easily load in completely new sounds and customize the pedals to your liking. There are four new pedals being added to the Mini-Pedal family:
Flashback Mini Delay
Corona Mini Chorus
Shaker Mini Vibrato
Vortex Mini Flanger
All four of these new pedals can be accessed using the TonePrint app for loading new sounds and with the TonePrint Editor software, both of which are free of charge. And, all four pedals are true bypass, with analog dry through, so your dry tone sounds exactly the same coming out as it did going in — even when the pedal is on!