What is DPC Latency?
Many audio problems on a computer can be caused by DPC latency.  DPC stands for Deferred Procedure Call.  In its simplest form, it is the part of your Windows system that handles driver efficiency.  If there is a driver that is taking longer than normal to process, it may prevent other drivers from being processed in time.  The worst case is that it can cause your audio interface driver from responding in time and can cause clicks, pops, distortion and dropouts.
How do I check my DPC latency?
There are a few programs that can be helpful in diagnosing DPC latency.  If you are running Windows 7 or higher, the best utility to use is LatencyMon by Resplendence.  This program will not only tell you if there is a DPC issue, but it will also tell you which driver is causing the latency.
For Windows XP or Vista systems, the only option is to download the DPC Latency Checker utility by the SysCon.  This utility will only show if you have a DPC latency issue, but it will not tell you what is causing it.
Once I figure out what is causing the problem, how do I  fix it?
LatencyMon will show the status of the latency issues in the Report Area.  The text in the Report Area will turn red when there is problems and will give you a general idea of how to fix it.  The lower section will show you the problematic drivers.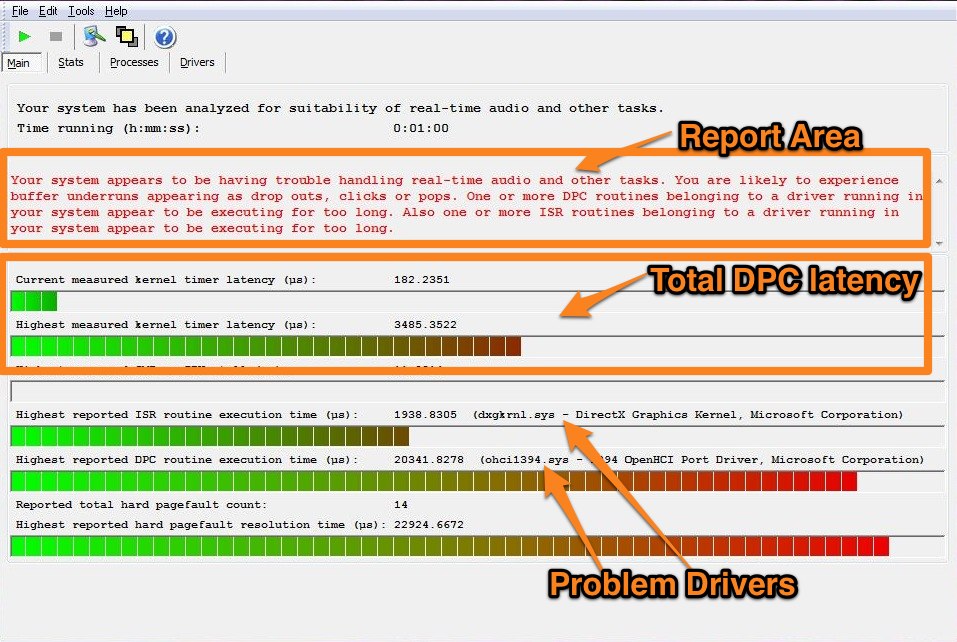 99% of the time the cause of the issues is an incompatible Wi-fi adapter. If disabling your Wi-Fi doesn't help, check the problem drivers to find the source of the issue.  The easiest way to find answers is to Google the name of the driver and the word "latency".  Near the bottom of the picture above you can see that main cause of the issue is ohci1394.sys.  So in Google, type "ohci1394.sys latency".  You'll find several forum posts with a variety of solutions.
Here is a shortcut list of what we've seen in the past that may help you narrow it down.
ndis.sys = network or wi-fi adapters.  Try disabling Wifi and network adapters in device manager.
 ohci1394.sys = firewire card or firewire device.  Unplug any firewire devices and re-test for latency issues.  Update any drivers for your firewire devices and try again.  Check for IRQ conflicts particularly with video drivers.  If you have a built in firewire port, try using a PCI or PCIe firewire card instead.
USBPORT.sys = These are your USB Controller drivers on your motherboard.  Download the latest chipset drivers for your motherboard, available from your computer or motherboard manufacturers support website.  It also may help if you are on Windows 7 SP1 http://support.microsoft.com/kb/2529073
In rare cases we've seen certain computers with Card Reader slots cause high DPC latency. Disable any SD/MMC/Compact Flash entries from within device manager.
nvlddmkm.sys = These are your video card drivers.  Visit www.nvidia.com and locate the latest drivers for your video card and update them.  Double check for IRQ conflicts between your video card and other devices on your system, particularly the IEEE 1394 Controller. On certain computers these may also be related to your motherboard chipset drivers.
ACPI.sys = This issue occurs typically on laptops.  This can be difficult, sometimes impossible to solve.  This driver is for ACPI on your motherboard which controls different power modes.  First disable any sleep settings on your PC and do normal PC optimization.  In some cases disabling the ACPI Battery from within device manager also helps.  This may disable the ability for the PC to charge the battery on a laptop.
With any of the issues above, be sure to also go through the entire PC Optimization. In addition, be sure to disable any unnecessary devices in your BIOS including legacy Drive A options, Serial Port and Parallel Port options, Onboard Audio, and any Stepping technologies like Intel SpeedStep or AMD K8 Cool&Quiet.
---
Helpful Links
PC Optimization Guide for Windows 10
When playing back audio through my interface on Windows, I'm getting pitch shifting and/or latency.
I'm getting latency (delay) or click and pops when recording on my computer.
I get high DPC latency with USBPORT.sys in Windows 7 SP1