Choosing in-ear monitoring over stage monitor speakers will improve your entire band's live sound by lowering onstage volume, giving your microphones more gain before feedback, and giving you and your bandmates better sound quality that can inspire more expressive performances. Sennheiser has been a leader in personal in-ear monitoring for decades, and Sweetwater has created this guide to help you find the right Sennheiser personal in-ear monitoring solution for your band, church, theater, or school. No matter what instrument you play, you'll be able to hear yourself and your bandmates better with a personal in-ear monitoring system, and that's sure to inspire better performances.
Five Reasons to Choose Personal In-ear Monitoring over Floor Monitors:
Cleaner, tighter PA sound thanks to lower stage volume
Better sound from mics onstage, thanks to higher gain before feedback
Excellent isolation lets you monitor at lower volumes, protecting against hearing damage
True stereo imaging can give you a clearer, better-defined monitor mix
More room onstage makes for a more comfortable – and safer – stage experience
---
Components of a Personal In-ear Monitoring System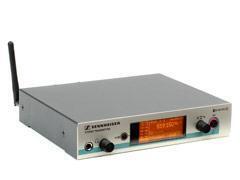 Transmitter
The transmitter accepts a monitor mix from the mixing console or snake and transmits the mix wirelessly to any receivers that are tuned to the same frequency. Many different receivers can all tap into the same monitor mix without requiring multiple transmitters. If you need to provide different monitor mixes for different musicians and performers, you'll need a separate transmitter for each different monitor mix.
Personal Receiver
Your personal receiver picks up the monitor mix being broadcast by your transmitter and provides a connection and volume control for your earbuds. Receivers can be worn on your waist or instrument strap for convenience. As long as the receiver is on and tuned to the transmitter, there's normally no reason to even touch the receiver other than to make volume adjustments. In-ear monitor receivers require battery power, so you'll always want to make sure you have enough battery life before a performance. Sennheiser's receivers have a handy battery-check function to make this easy.
Earbuds
The demands of personal in-ear monitoring during a performance are quite different than casual listening. For the best monitoring experience, you need loud, clear sound from the lowest bass through the entire sonic spectrum. And your sound needs to stay consistent and well-balanced even when you're forced to crank up the volume to high levels. Hard-gigging musicians also know that a comfortable fit is important, and that little things like a detachable cable can make a big difference in the middle of a tour. Sennheiser offers in-ear solutions to match any budget, all designed with performing musicians in mind.
By removing the monitors from fixed stage positions and putting them in your ears, you're free to focus on your bandmates more, leading to tighter performances and more band interaction.
| | Transmitter Price | Receiver Price | Number of Tunable Frequencies | Simultaneous Channels | Available Dual-transmitter? | Control from PC via Ethernet? | Audio Frequency Range |
| --- | --- | --- | --- | --- | --- | --- | --- |
| EW 300 | $649.95 | $299.95 | 1680 | 16 | No | Yes | 25Hz-15kHz |
| SR 2000 | $1949.95 | $699.95 | 3000 | 32 | Yes | Yes | 25Hz-15kHz |
| | Price | Number of Drivers | Frequency Response | Detachable Cable | Max SPL |
| --- | --- | --- | --- | --- | --- |
| IE80 | $449.95 | 2 | 10Hz-20kHz | Yes | 125dB |
| IE60 | $249.95 | 1 | 10Hz-18kHz | No | 115dB |
| IE4 | $59.95 | 1 | 40Hz-20kHz | No | 106dB |
Streamline Your System with an Antenna Combiner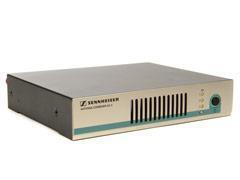 If you're running four or more channels of wireless in-ear monitors, you will definitely benefit from using an active antenna combiner like the Sennheiser AC3/NT active antenna combiner. It provides power for up to four transmitters and allows them all to share a single active antenna for a cleaner rig and even better signal transmission. Even a Broadway stage production becomes much easier to manage when you've consolidated your wireless signals with antenna combiners – setup goes faster, and the system becomes easier to troubleshoot and manage in the middle of a show.
Personal monitoring not only improves what you hear – the reduced stage volume makes your whole band sound clearer and tighter from the crowd's perspective.
Sweetwater has spent countless hours with Sennheiser personal in-ear monitoring systems, and we know they have what it takes to meet the demands of hard-gigging musicians of all types. For help configuring your ideal personal in-ear monitoring system, give your Sweetwater Sales Engineer a call!