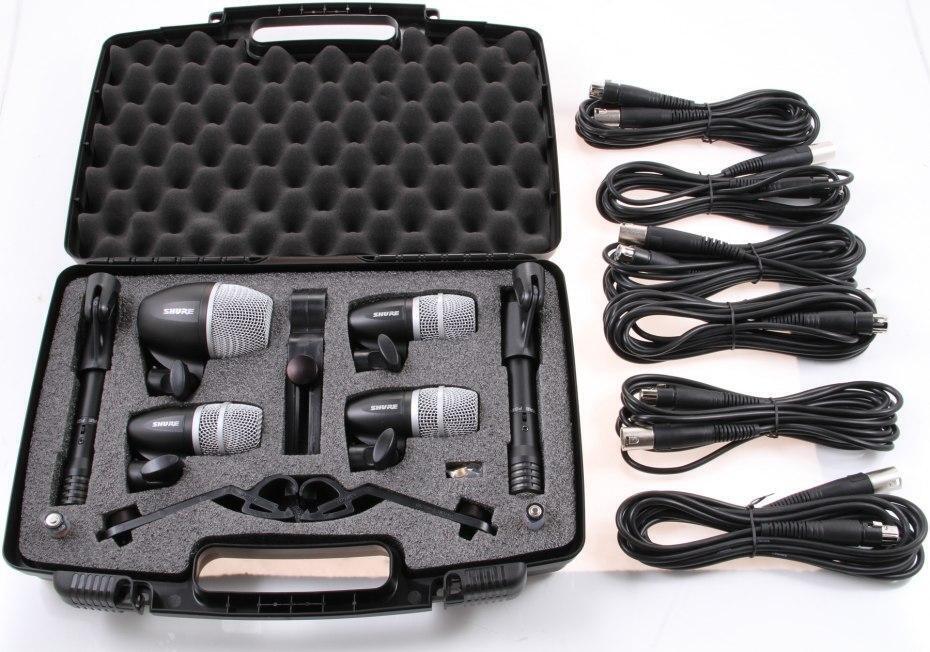 Great sound, excellent construction and bullet-proof reliability! Shure has put together an amazing package that takes the guesswork out of choosing drum microphones.
I have to start out by admitting that I love drums. My favorite part of any recording session I'm involved in is putting mics on a drum set and getting sounds. I guess it's because on so many records the drums provide the foundation upon which songs are built and they can deliver a tremendous amount of power and drive unlike any other instrument. Did I mention that I love drums? Well it's clear that the people over at Shure love drums as well because they've put out an
amazing package with the PG Drum Mic Kit 6, also known as the PGDMK6. This kit includes pretty much everything you need to get your drums mic'ed up and sounding great, whether it's in the studio or playing live.
When most of us think about Shure microphones we think: great sound, excellent quality and bulletproof reliability. Well the PGDMK6 lives up to all of these expectations and even offers a few neat unexpected treats.
When you open up the package the first thing that you notice is the heavy duty case for storing your new mics or protecting them while in transit. The second thing you'll notice is six 15 foot XLR cables to get you patched in right away. Nice touch! Inside the protective case you've got the real goodies: one PG52 bass drum mic, three PG56 snare/tom mics, two PG81 overhead mics and three A50D mic mounts. Shure even goes so far as to include two AA batteries for the PG81 condenser mics to get you going if your mixer can't provide phantom power. All of the mics have cardioid pickup patterns, meaning they only pick up sound that is directly in front of them. This is
important both live and in the studio because you only want the mic to pick up the sound source it's aiming at.
Getting the mics on the drums was a breeze, especially with the A50D mic mounts. The A50D is unlike any other mic clamp I've used on drums, and let me tell you I've tried them all. First off, the body of the clamp is a single piece of extremely hard yet slightly flexible plastic which helps in isolating the mic from the drum's direct vibrations. Integrated within that is a single threaded knob for screwing down the mic. This design means there are no parts to lose, which is an added bonus. Attaching the A50D to the rims on my drums was no problem, as they're designed to fit
basically any production drum rim. Since the clamps are plastic you don't have to worry about the finish on your drums getting scratched or marred during install or removal. The PG56 snare/tom mics have integrated clips – they thread right onto the A50D mount and can be placed and angled exactly where you want them.
All of the other mics set up in a matter of minutes: the PG52 on a short mic stand and the PG81s on a pair of tripod boom stands. I placed the PG52 about 5 inches from the resonant head of my bass drum aimed at beater. The PG81s were arranged as a spaced pair: one above my crash and high hat cymbals and the other over the ride cymbal.
Well now that you know how easy it was to set these mics up I bet you're wondering how they sound. In a word: Excellent. After patching these in I had great sounds in a matter of minutes with very little tweaking placement wise and no equalization. The PG52 was able to capture both the attack and body of my 18″ x 22″ kick drum. It was easy to go from a warmer, more vintage tone to a very focused, modern tone with a sharp attack simply by moving the PG52 from the outside of the drum to the inside. The PG56s were a perfect complement to my two toms and snare. My kit
features coated heads all around and the PG56s captured all of their warmth, openness and tone. The snare had a wonderful crack to it, and I was actually able to take off some of the dampening I had applied when using other mics because of too much ring in the recording. Bringing the whole kit together was an easy task for the PG81s. Placed about six feet apart and four feet above the kit they captured a wonderful, glassy sound from the cymbals and never got overly bright or harsh. The PG81s also did a great job at adding some attack and room ambience to the kick, snare and toms.
Shure really has put together an excellent package with the PG Drum Mic Kit 6 that would appeal to a huge range of users: live bands, home/project studio owners, club owners, PA companies and house of worship bands. It also has a price tag that puts it in the budget range of anyone who wants to get some mics on their drums and have them sound great.