Loops instantly add another element to your live performance and can be used in so many different ways. From a simple groove to a complex arrangement, loops can be used to augment a full band or to back up a solo artist. They can be crafted and stored for instant recall or created one layer at a time, during a live performance. How you create a loop is limited only by your imagination: imitating sounds with your voice to create a full-band arrangement, manipulating whatever instrument you're playing to sound like other instruments, using pre-recorded sounds or samples, the field is wide open.
Loopers built into a pedal format are by far the easiest to manipulate in a live setting. Chances are, your hands are already pretty busy during a performance and pedal-loopers can be totally controlled by your feet. Here are ideas and tips that should help you create better loops and use them effectively.
Making Great Loops
Looping and recording have a lot in common, especially if your loops contain multiple layers, so the same principles apply to both.
Accurate Execution, Time, Groove, and Feel
Communicating your ideas and making your performance what you intended is the goal. This doesn't necessarily take impeccable technique, but you're capturing a performance, repeating it, and building on it so it needs to be accurate, especially rhythmically. Some loopers have internal drum patterns or rhythm guides. These can be great tools not only for performance, but for practicing rhythmic accuracy, solid tempo, and clean execution of loop starts and endings.
Electro-Harmonix 22500 Dual Stereo Looper Pedal
Understand Arranging
If you're building a multi-layer loop, it's just like creating a full-band arrangement. Each layer has to occupy its own territory, sonically and rhythmically. Don't be tempted to play too much on the initial layer, leave spaces and accent those in the following layers. Also, find a way to make each layer sound different, even if it's a subtle change. Use a different sound, play in a different register, use long or short articulation of the notes, or try any technique you can think of to differentiate the layers. Its easy to make a multi-layer loop too busy, especially if you're going to play and/or sing over it.
Be Organized and Accurate with your Parts
This is especially important if you're building a loop one layer at a time in front of an audience. Stops and starts aren't very entertaining to an audience and ends up looking more like rehearsal. This often means working out your arrangements note-for-note ahead of time, or choosing a looper that can store pre-recorded loops. Another option is to "silently audition" your next layer by turning down the volume on your instrument, or singing off-mic, with your looper in "Play" mode, then playing or singing along until you feel comfortable with adding the next layer. When you're ready, turn up and go to "Dub" mode.
Think of the First Layer as the Foundation
The other layers can't be longer than the first layer, but can be shorter than the initial layer. This is especially helpful if you have a long loop and want to put different layers in different sections of the loop. You can go in and out of "Dub" mode as the loop plays.
Plan for Songs that have Multiple Sections
Build simple loops that can work over all sections of the song or if you have independent switching for each layer, temporarily shut off the layers that don't work with the new section. You can also use the song-section change as an opportunity for a dramatic dynamic shift by shutting the looper off for the new section and then turning it back on when you go back to the previous section.
Boss RC-30 Phrase Looper Pedal
Know Your Looper
Regardless of which looper you choose, whether it's dead-simple or full-featured, completely and intuitively understanding how it functions is the best way to use loops successfully during a performance. Since your attention is divided among so many other elements: singing, playing, communicating with the audience, etc., using your looper needs to be automatic to keep the flow in your show.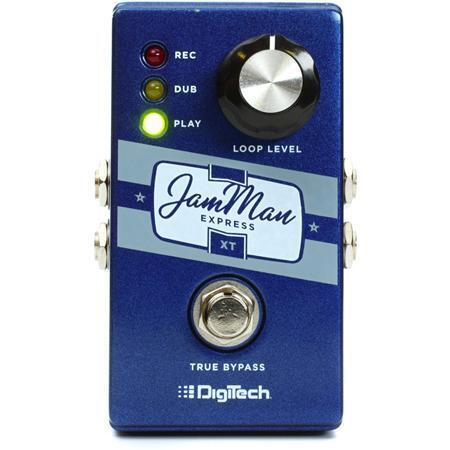 DigiTech JamMan Express XT Phrase Sampler / Looper Pedal
Start by practicing creating loops. Getting a feel for how the footswitch operates will keep the beginnings and ending of your loops clean, which will make your loops stay in time.
Always know what mode your looper is in. Typically, the options are:
Record — to lay down your your initial layer
Dub (Overdub) — to add layers on top of the initial layer
Play — to perform "live" over top of the layer(s) you've recorded
Erase — to erase the most current layer or the entire loop
Stop — to stop loop playback but keep it in the looper's memory
*TIP: To erase an entire loop in "Stop" mode on most single-switch loopers, press and hold the footswitch. On some loopers, this will begin playing the loop for about a second. In this situation, a volume pedal placed after the looper in the signal chain will allow you to mute it.
Since many loopers use a single footswitch to access all of these modes, you can see why knowing how many taps it takes to get to which mode and the exact feel of the footswitch is so important. Even if you have a second to glance down at your pedal during a performance — sometimes you won't — getting to the proper mode on your looper needs to be second nature so you won't be distracted; the ultimate goal is to perform and make music.
If your looper pedal has a wide variety of options: multiple tracks, reverse mode, or if it's part of a larger system like a vocal/guitar processor, take time to get familiar with all of the functions, to keep your performance smooth.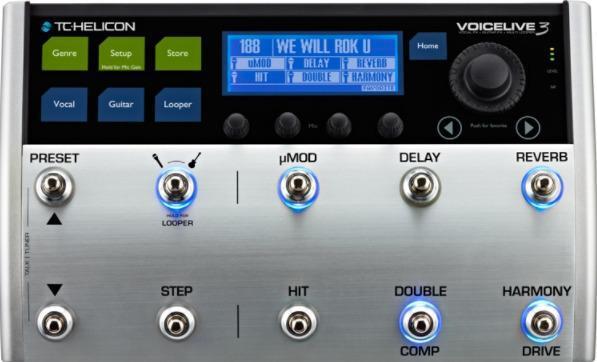 Have A Backup Plan
Always know how to access the "Stop" function! If everything goes nuts and all else fails, fading your loop out gracefully is the best way out, but "Stop" mode will fix it, too.
If you make a mistake while layering a loop, erase that layer and either try again or move on to something else, don't labor over a part. Unless you're doing a perfect, sound-a-like cover of a famous song, you'll probably be the only person that knows a layer is missing.
If you use pre-recorded loops, always have the loops backed up. Some loopers use SD cards, some have USB ports. Whatever system yours uses, always bring a backup to the performance in case your looper's internal memory disappears.
If your performance relies heavily on looping, having a second looper either in-line or close by is a good idea. Failures happen and the show must go on.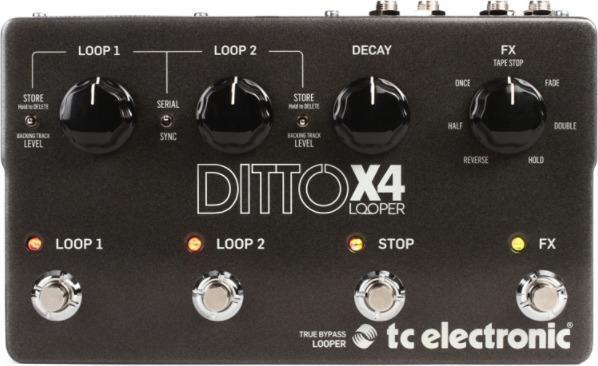 TC Electronic Ditto X4 Looper Looper Pedal
Effects
Just as in recording, effects can help make looping more interesting sonically. However, too many effects can take away from the music. Use your effects with intention; no matter what your style, use effects to help you convey your ideas. Try a totally dry layer, then one that's heavily effected. The juxtaposition can be really interesting. Slowly build a giant cacophony with delay and reverb and then shut all of the effects off for a big dynamic shift.
Experiment with effects-pedal placement in the signal path. An effect placed before the looper will get recorded to the loop and then switched off for the next layer. An effect placed after the looper can be switched on and off while the loop is still playing, but everything coming out of the looper runs through it. If you create multiple layers, the effect will be on every one of them. This can be a powerful creative tool.
If your looper has multiple outputs, each loop can be processed and effected individually. This works exceptionally well if your looper has independent switching for each layer; reverb on the "drum" layer, fuzz on the "bass" layer, delay on the "rhythm" layer, etc. This will help set your layers apart from one another.
The key is to have fun and make music; be creative!
*Bonus
Don demos the DigiTech JamMan Express XT Phrase Sampler/Looper pedal.