The Singing Guitarist's Best Friend!
Solo or in a band, TC Helicon's VoiceLive 3 opens up the possibilities of a live performance. Its top-shelf microphone preamp and auto-sensing harmony generator create the atmosphere your live vocals are missing. Yet even if you stripped away its vocal enhancement, VoiceLive 3 still makes a formidable guitar effects processor. You get access to several TonePrint pedal effects from TC Electronic, plus talkbox, chopper, bass, and wah effects. Amp models ranging from classic British crunch to California clean mean you can dramatically reduce your stage footprint — a big win for light travelers. Finally, a dedicated pair of hi-Z outputs makes short work of connecting to stereo amps or a PA.
Unlock more features with the latest firmware!
Upgrading to the latest firmware nets you the hottest features in the TC VoiceLive 3:
USB audio — send stereo audio to your computer over USB for no-fuss recording
MIDI sync — slave time-perfect delay, looping, and rhythmic effects to external devices, such as drum machines, for seamless performances
Enhanced looping — now includes 50 loop slots (upgraded from 10), along with external footswitch control and improved sync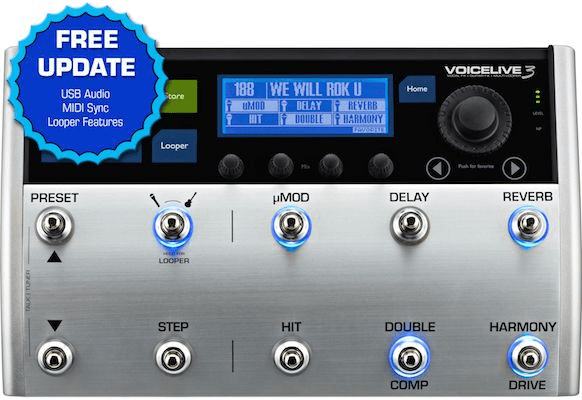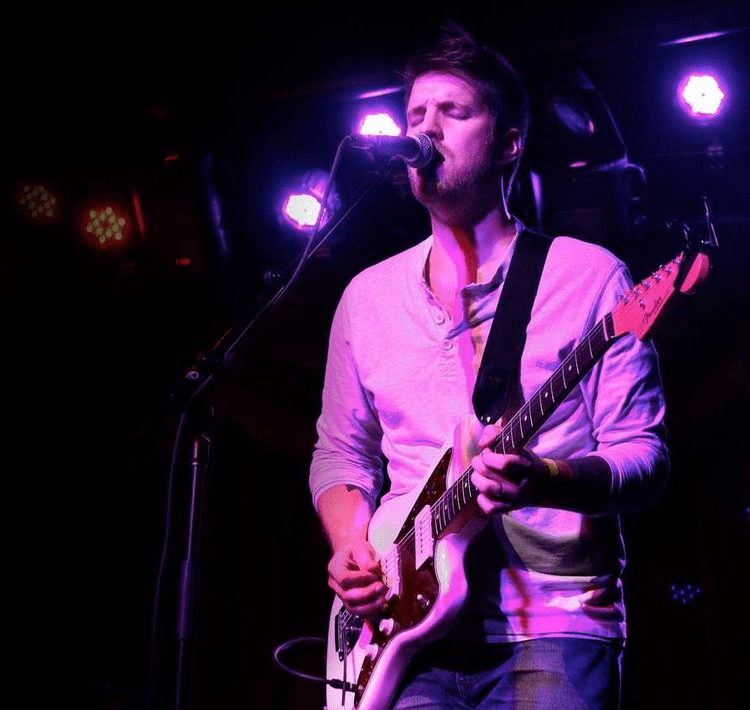 Intelligent Vocal Harmonies on the Spot
Conjure tight, professional backing vocals
VoiceLive 3 gives you the ability to conjure anything from a single voice to a passel of backup singers. These virtual voices track your song based on the chords you're playing — either tracking your guitar via the 1/4" input or your keyboard via the MIDI input. Three harmony options give you more choices than ever before, so you'll always have the right sound backing you up.
Expanded Harmony Modes
TC-Helicon loaded the VoiceLive 3 with a trio of brand-new Harmony modes, expanding the possibilities even further than previous generations. Here's a breakdown of what each mode can do:
Pedal: In this mode, VoiceLive 3 "sings" the root note of whatever chord you're playing. This can manifest itself as either the root above or the root below, depending on the chord. Sonically, you'll dig the way Pedal mode sounds when you're changing chords that have the same root note, as it just hangs onto that same note as you change chords and the melody moves.
Fixed: As its name implies, this mode holds a fixed user-defined note. No matter where your melody goes, the harmony will hold the same note the whole time. The note is defined by the key you've set +/- a number of semitones. Here is an example: If you've set the VoiceLive 3 to C and want the fixed note to be an E, you'd adjust the Fixed voice to +4. Not into math? The menu shows you both the numerical offset and the output note, so you can easily determine what the fixed harmony note will be.
Mixed: Designed for advanced users, Mixed Mode elevates the game. This mode gives you the ability to define the type of harmony the each voice will sing. So, for Voice 1, you could have it follow your guitar or keyboard (NaturalPlay), Voice 2 could work from a Key/Scale (Scale), Voice 3 could be a fixed note (Fixed), and Voice 4 could be a Pedal. As you can see, Mixed Mode offers a ton of options to add harmonies to your vocals.
Loaded with Pro Voice & Guitar FX
Vocoder & talkbox effects spice up any performance
Vocoders and talkboxes are a lot of fun. And they're a great way to spice up a vocal track. VoiceLive 3 is loaded with an awesome vocoder, giving you a voice-controlled polyphonic synth, plus robot modes you can use to twist and contort your voice into cool new sonic territories. VoiceLive 3 also offers classic talkbox sounds right at your toetips. There's no hose involved — just talk into your mic, and your vocals come alive with Frampton-style inflections.
Onboard looper is a solo-artist essential
Especially for the solo performer, looping lets you build up a song by laying down rhythm and percussive tracks. Once you've gathered your loops, you can arrange and re-arrange the looped backing tracks with slick verse-chorus-bridge switching. If you struggle with keeping the timing of your loops tight, LoopAssist is here to help. A multipurpose metronome starts you off on the right foot, and then quantize syncs them up nicely. The VoiceLive 3 takes it a step further with auto expansion, which stretches or shrinks a loop to different lengths. This exponentially expands your looping capabilities, enhancing your performances.
TC Electronic TonePrint guitar FX baked right in
Sure the VoiceLive 3 is aimed at adding to your onstage vocals, but it's also loaded with a selection of awesome guitar effects too. Borrowing from sister company TC Electronic, TC-Helicon dropped guitar effects from the super-cool TonePrint series into the VoiceLive 3. Among the choice effects available to you are samplings from the Flashback Delay, the Hall of Fame Reverb, the Corona Chorus, and others.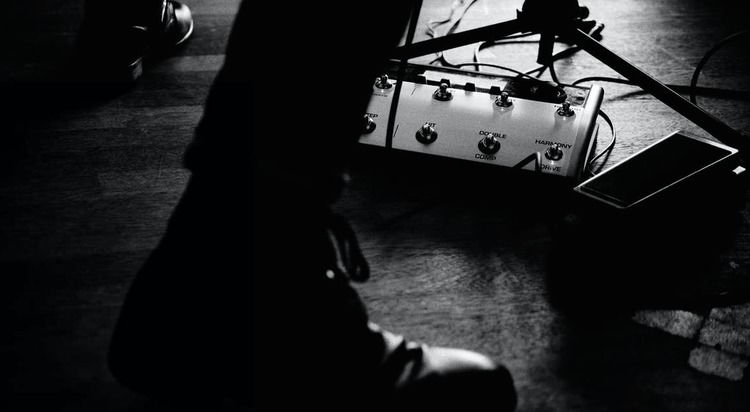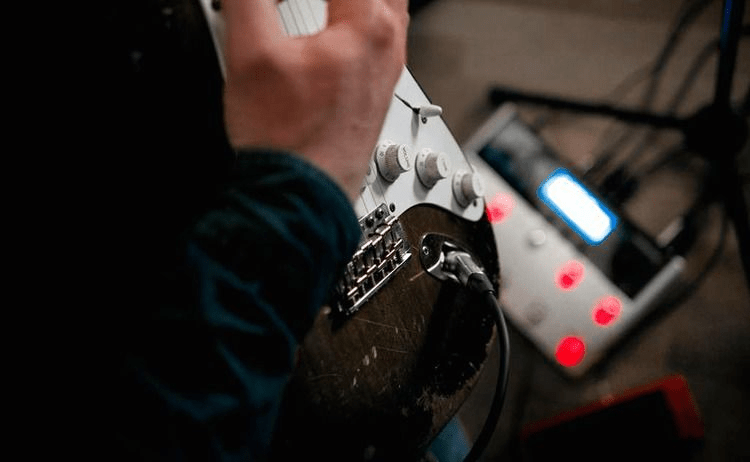 Other Powerful Features
There are literally hundreds of features that make the VoiceLive 3 such an awesome onstage tool, and we can't possibly do them all justice here. But here's a rundown of some of the remaining highlights that we're sure you'll find helpful in taking your performance to the next level.
Streamlined user interface
Navigation through the VoiceLive 3 is as easy or in depth as you want it to be. Most users will be totally happy to reside in the top-level controls, where the LCD screen uses visual cues and knobs to control the "guts" of the effects. But pro users can go as deep into the rabbit hole as you see fit, as TC loaded the VoiceLive 3 with a ton of control options. We got an early release unit here at Sweetwater to check out, and believe us when we say you've got tons of options if you want to really dig into the VoiceLive 3.
Sound like a star with HIT
A great performance is all about dynamics, and VoiceLive 3 lets you master your onstage dynamics. The HIT button puts you one touch away from adding effects layers to your vocals, your guitar, or both. A practical application would be to add distortion and harmonies for the chorus, adding excitement to your song and set.
Auto-sensing outputs reduce setup stress
The VoiceLive 3 has a neat trick hiding up its sleeve that many casual users may not ever discover: auto-sensing jacks. When both balanced outputs have cables plugged into them, a stereo signal comprised of both vocal and guitar is passed to the PA. Plug a 1/4" cable into the guitar output(s) and plug that into your amp. The guitar signal is removed from the balanced output, and summed and switched to the guitar output. Pretty nifty!
Take control of your performance
Optional MP-75 and MP-76 microphones give you hands-on control of presets, effects, and looping while you perform.
TC Helicon VoiceLive 3 Features:
Powerful, professional voice and guitar processor
Crafts intelligent vocal harmonies by sensing your instrument input
Loaded with TonePrint guitar FX and amp/speaker emulation by TC Electronic
Vocoder and talk box built-in
Mic pre automatically sets the gain for you
Adaptive Tone creates a truly professional, produced sound
Global presets let you apply effects to any and all presets
3-phrase looping lets you create and store entire songs on-the-fly
3iC processing boasts dedicated processors for vocals, guitar, and looping respectively
Remappable buttons let you customize the user experience