Bose L1 PA systems are modular, portable, convenient — and great sounding! They set up in minutes and deliver crisp, balanced sound to audiences of up to 500. Bose's articulated line array exhibits less SPL drop-off over distance than conventional speakers, eliminating the need for onstage monitors.
Whether you're a public speaker, a DJ, or a band member, there's a Bose L1 system that's perfect for your needs!
Complete, portable PA systems that deliver clear, balanced sound and set up in minutes.
Proprietary articulated line array delivers 180-degree coverage.
Consistent tonal balance and less SPL drop-off than conventional systems.
Models available for audiences from 100 to 500.
The line array gives you wide coverage and high feedback resistance.
Position the system behind you and hear what your audience hears.
Lightweight components connect easily without the need for speaker stands.
Optional ToneMatch audio engine acts as a mixer and lets you save the sound of specific instruments and mics.
B1 and B2 bass modules provide a choice of bass performance.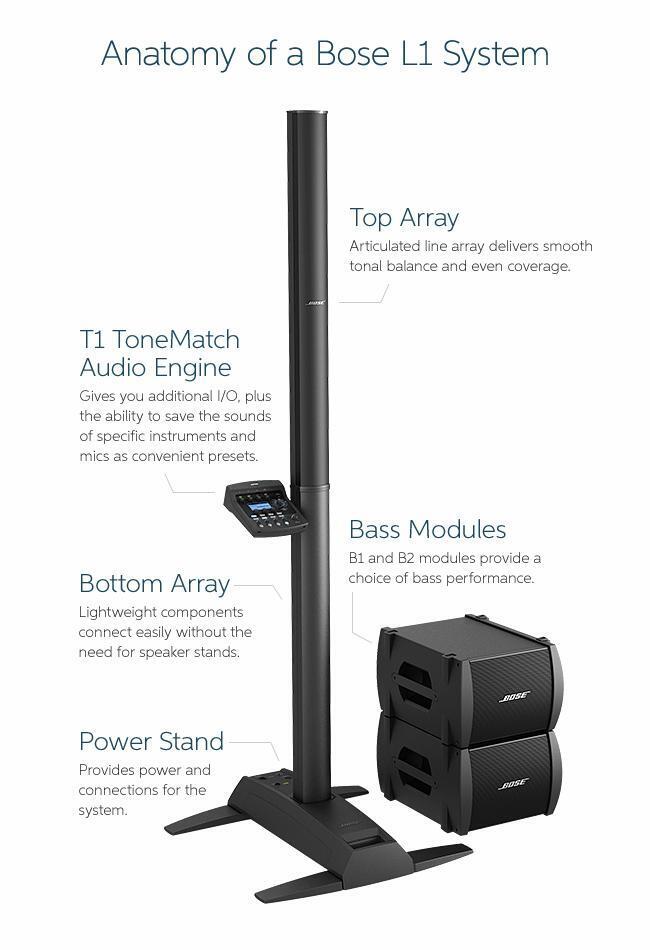 L1® Portable Line Array Systems
Quick Comparison Guide
L1 Model II system
L1 Model 1S system
L1 Compact system
Positioning
Bose's most advanced system featuring a 24-speaker articulated line array providing the best tonal balance, coverage, and highest output.
A unique combination of performance and portability that includes a 12-speaker articulated line array providing smooth tonal balance, coverage, and high output.
The smallest, lightest, and easiest-to-set-up L1 system featuring a 6-speaker curved articulated line array providing smooth tonal balance and coverage, weighing just 29 pounds.
Audience Size
Up to 500
Up to 300
Up to 100
Applications

Musicians
Mobile DJs
Public Speaking
Professional A/V Applications

Acoustic Musicians
Secondary PA for Mobile DJs
Public Speaking
Business Presentations/Classrooms

Array Performance
The articulated 24-speaker line array provides 180 degrees of horizontal sound coverage, while at the same time offering extremely tight vertical control resulting in less drop-off in volume over distance than conventional loudspeakers.
The 12-speaker articulated line array provides 180 degrees of horizontal sound coverage, while at the same time offering tight vertical control resulting in less drop-off in volume over distance than conventional loudspeakers.
The L1 Compact loudspeaker array is smaller than those in the L1 Model 1S and Model II systems, yet produces comparable horizontal sound coverage. The L1 Model 1S and Model II systems project sound farther and with less volume drop-off than the L1 Compact system.
Coverage
180° Hx0° V
180° Hx0° V
180° Hx0° V
Max SPL
115dB (Continuous), 121dB (Peak)
112dB (Continuous), 118dB (Peak)
106dB (Continuous), 112dB (Peak)
Low-Frequency(-3dB)
40Hz (with B1 or B2)
65Hz
Bass
The Model II power stand can drive 2 B1s or a single B2 bass loudspeaker.

It also features a dedicated bass line-out, allowing it to be used with the A1 Packlite® amplifier to add two additional B1 bass modules or an additional B2 bass module.

The Model 1S power stand can drive 2 B1s or a single B2 bass module.
The L1 Compact system features an integrated bass speaker in the power stand

Not compatible with the B1 or B2 bass modules.

I/O

1 x 1/4″ analog input
1 NL4 bass module out
1 x 1/4″ bass line-out
1 ToneMatch® port
1 trim control
1 power switch

1 x 1/4″ analog input
1 NL4 bass module out
1 ToneMatch® port
1 trim control
1 power switch

1 microphone input
1 x 1/8″ balanced analog input
1 RCA stereo input
1 x 1/4″ analog output
1 x 1/4″ mono analog output
1 RCA output

System Includes

L1 Model II top and bottom loudspeaker arrays
L1 Model II system power stand
AC power cord
Protective carrying bag/covers
B1 or B2 bass module with cable and slipcover

L1 Model 1S top array and bottom extension
L1 Model 1S power stand
AC power cord
Protective carrying bag/covers
B1 or B2 bass module with cable and slipcover

L1 Compact loudspeaker array
L1 Compact system power stand with slipcover
L1 Compact system extension with protective carrying bag
Components and Accessories
Your Sweetwater Sales Engineer can help you configure a Bose system to fit your needs! Call (800) 222-4700