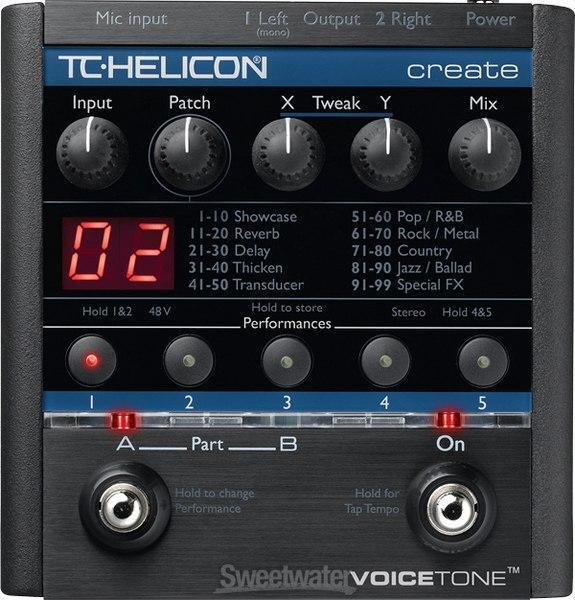 "Why should guitarists have all the cool effects? The VoiceTone Create adds a whole new world to live vocal performance."
After discovering the VoiceTone Create, all I could think about was how I had never thought of it before. Guitarists have been using effects to push the limits for years and years, but I've never seen a vocalist take it to those extremes. Of course, we've all seen someone singing through a Megaphone to get the audience's attention, but that has been few and far between.
Not having a standing gig at the local karaoke bar, I took the VoiceTone Create home to give it a good test run through Pro Tools. The first thing I noticed when I took it from the box was that this thing is built to stand up to the stage. From the rugged casing to the rubber feet, the design was very practical. A few XLR cables and a microphone and it was up and running.
Construction aside, the palette of sounds available in this 5″ square box were really the things that blew me away. I went through all 99 presets, adjusting parameters on most of them. I was definitely impressed with the sound quality coming out of such an affordable unit. Adding the VoiceTone Create to a live show would add hoards of possibilities to what a singer could do. The reverbs added a nice richness, especially using the unit's stereo XLR outputs. 50 effects including delay, chorus, flanger, telephone, and megaphone take up the first half of the presets. 51 through 99 hold presets that use combinations to achieve certain types of sounds that would be appropriate for different genres. For instance, I switched over to preset #75, the "Old Tape Delay," very curious of what I would get. A few turns of the knobs later and the old school sound of tape came right through. This thing just continued to impress me with the quality and the quantity of effects.
I was convinced. The VoiceTone Create could make live gigs a lot of fun for a lot of singers. I even called up some of my jazzy trumpet player friends that I know would love to have one of these in their rig. Imagine playing a gig where you can control all of your effects without having to lean on the engineer. You would have the freedom to explore and improvise, changing your set list all you like without leaving the board operator scrambling to find your settings. How much easier would it be to captivate an audience with the help of a megaphone, a lush reverb, and a robot voice? Idea after idea kept running through my mind. Why should guitarists have all the cool effects? The VoiceTone Create adds a whole new world to live vocal performance.
I encourage every live singer to give this pedal a try. If you're bored with the palette of sounds available to you or frustrated with your live setup, this will likely be your solution. Put some excitement and enthusiasm back into your voice!