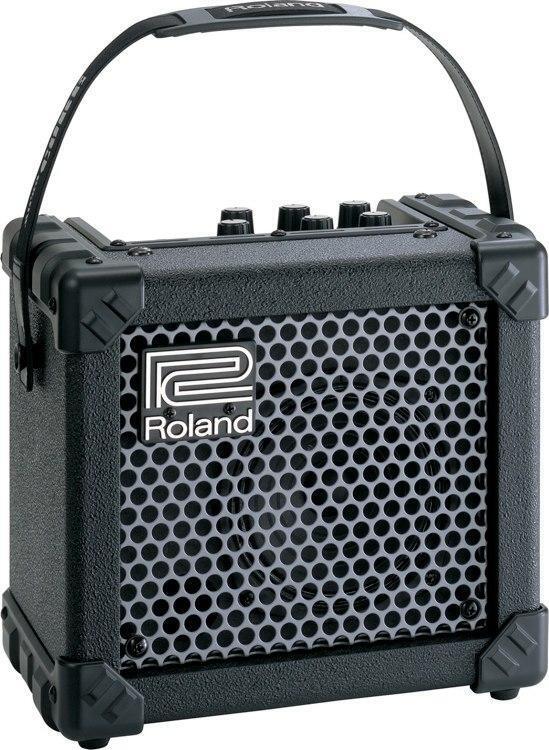 This is a true performers amp designed for great portability...
The first time I saw this little guy I was sure it was just going to be another tiny amp in a big amp world. Let me be the first to tell you however that this Micro Cube amp by Roland is by far one of the best amps for guitarists, and roaming performers that I have ever heard.
I was almost in shock to find out that using just 6 AA batteries this amp is only pushing 2 watts. I could have sworn I was hearing a larger amp with 30 watts coming out of this little 5-inch speaker. If you were to just listen to the sound from a microcube for a few moments you probably would be amazed that it is as loud and clear as it is for such a small cube amp. I have heard many smaller styled amps and typically they might distort while trying to give you a loud enough sound that can be heard in a typical noisy environment. The gain and the volume of the Micro Cube never needed to be peaked out to enjoy crystal clear sound, and dynamic range. On top of the great sound there are multiple d.s.p. effects, and 7 classic and modern amp models that give you a variety of sounds that in true reality should cost you tons more, and typically be found only in larger more expensive amps.
There are quite a few reasons why every guitar player needs one of these amps, but I'll sum it up by saying that this amp will take you places you never thought you'd go. It will give you something extra you never thought you'd get, and it will make you look like a superstar on the small stage, in the coffee shop, and on the street. This is a true performers amp designed for great portability, and incredible sound quality. Definitely put one of these on your list for your next guitar accessory purchase. It's a must have!