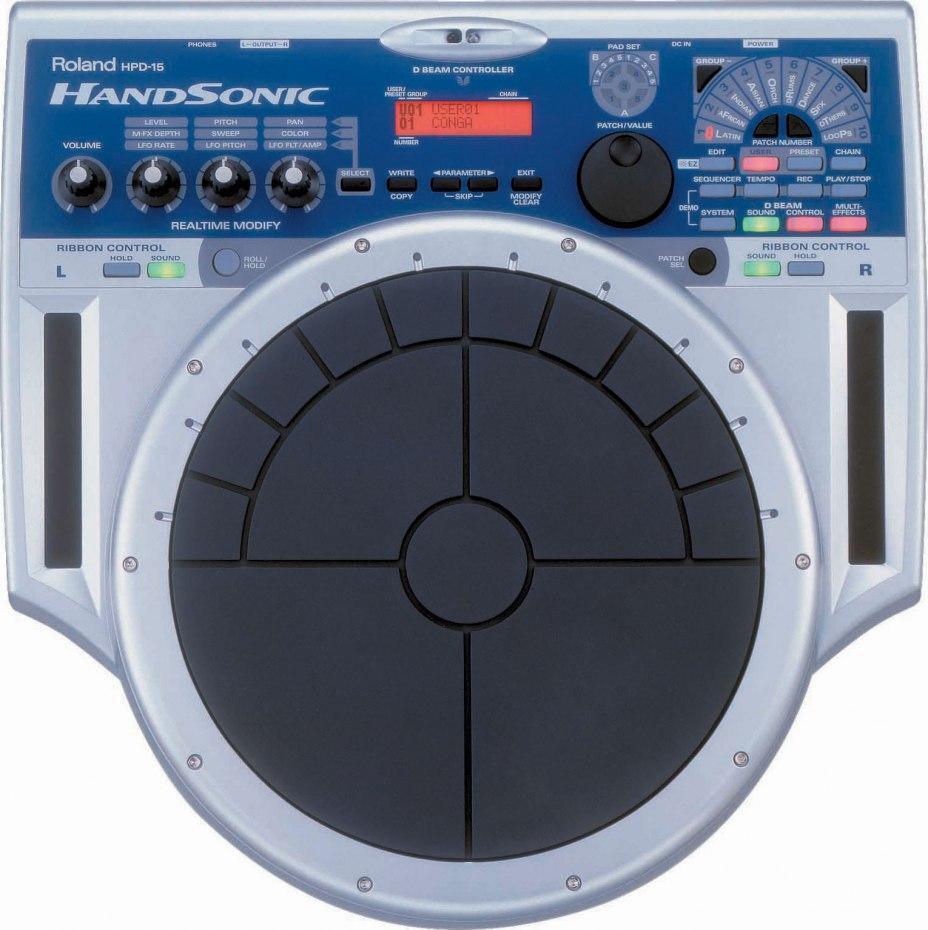 The best word I can find to describe my experience with the HandSonic 15 is "musical." I expected it to sound good, being based on Roland's highly successful V-Drums technology – and it does – but the combination of ultra-realistic sounds with the amazingly responsive pads and ribbons adds up to something that has to be played to be truly appreciated.
Taking the unit out of the box for a coffee-table test drive, it felt substantial even though it only weighs about six pounds or so, and the metal screws around the edge of the pad surface gave the impression that the HandSonic is designed to meet the demands of professional use. I powered it up, plugged in my AKG K 240 studio headphones, and began to tap away. The sounds of this thing, especially when monitoring in stereo, are stunning. It was very easy to scroll through the different groups of sounds, which are arranged at the top right of the panel according to where on the planet they are from. African, Indian, Asian, and many other types of percussion are produced with incredible detail, enhanced by the onboard delays, reverbs and other fully-adjustable effects to place them in context.
But the thing that really puts this unit over the top for me is the response of the pads, ribbons, knobs and D-Beam. The pads are velocity sensitive, of course, but they also react to being struck towards the edges versus the center, for example, and to pressure applied after a pad is hit. On top of that, there are three Realtime Modify pads on the top left of the panel to control parameters like modulation rate and pitch change. Add in the ribbons and D-Beam, both of which can be used to either trigger sounds or add expression to sounds triggered by the pads, and it's almost impossible to avoid being inspired toward fresh and exciting ideas for both composition and performance. Another winner from Roland, the Handsonic 15 truly takes electronic percussion to the next level.