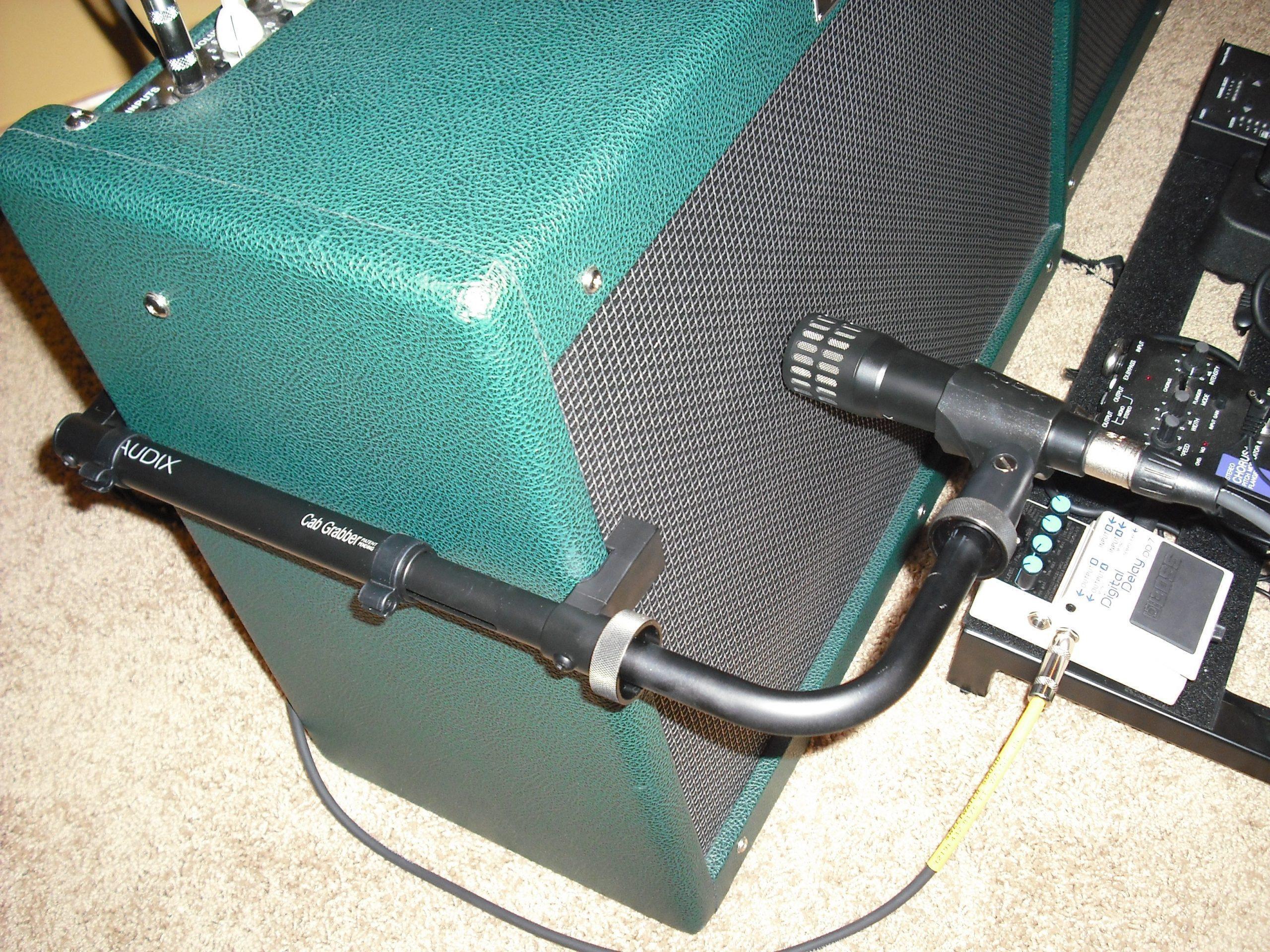 Miking up a guitar amp or cabinet isn't excruciatingly difficult, but there are the hassles of dealing with a mic stand and quickly getting the mic placed where you want it. Now, those hassles are a thing of the past! Audix has come up with a brilliant solution to miking up an amp, whether you're working in the studio or thrilling an audience live onstage!
The CabGrabber couldn't be simpler or easier to use. It's a curved metal tube with two spring-loaded pads. Just spread the pads apart and slip them over the edge of your cabinet or amp – cab/amp depths from 8" to 14" are supported. All you need is a flat point on the cabinet for the CabGrabber to latch onto.
The curved "arm" of the CabGrabber can be rotated to place the microphone where you like. The end of the arm is threaded to accept a standard mic clip. Once you have the arm rotated to where you want it, you can lock it into position with a collar.
You can use mics that weigh up to 16 ounces; I tried an Audix i5 dynamic mic, a Shure KSM44 condenser mic, and a Royer R122 ribbon mic. The CabGrabber worked perfectly with all of them. The CabGrabber slipped easily onto both my Fender Hot Rod Deluxe amp and my 1×12" extension cabinet. It couldn't be easier to position the mic where you want it, whether that's on the edge of the speaker, in the center, or anywhere in between. Using the mic's clip, you can also adjust the angle of the microphone in relation to the speaker cone.
The Audix CabGrabber is a brilliant tool. You can certainly mic a guitar amp or cab with a standard mic stand, but this is so much more convenient, plus you don't have the problem of how to place a mic stand's legs or base. This becomes an even bigger deal if you're trying to place more than one microphone on a single speaker. Use the CabGrabber to place the first mic. Then, use a regular mic stand or stands to place the other mic or mics. The whole process is much easier when one of the mic stands/holders doesn't have a base or legs to work around!
The CabGrabber should be in every guitar player's and every studio's tool kit.