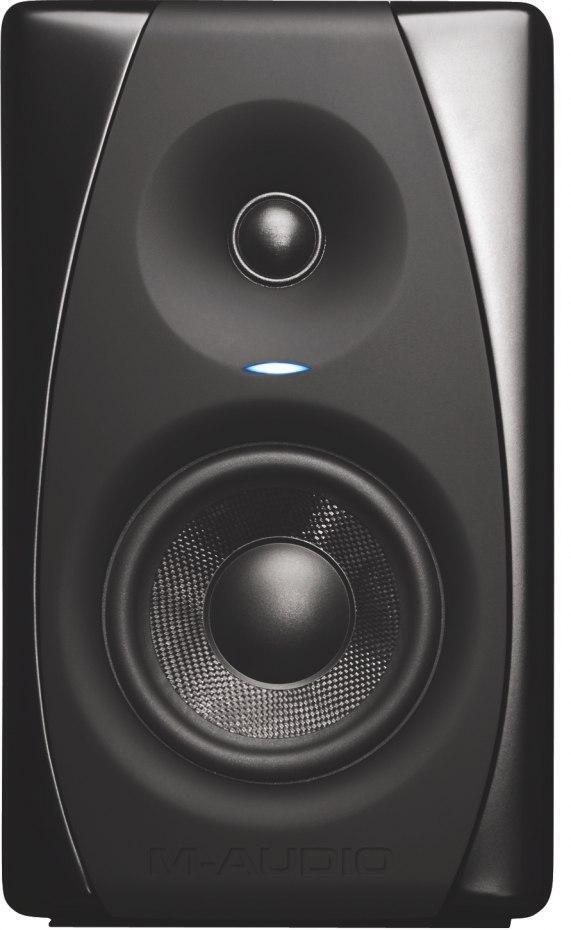 These sound GOOD! A clear, pronounced kick drum and bass guitar, smooth midrange, and present and clear highs.
When I first set up a pair of CX5s, I was thinking of all of the stereotypes of 5″ woofer-based monitors: no bass, harsh midrange and either weak or shrill highs. Admittedly, I was not very excited. But then I did what's most important: I listened to them. I was almost taken aback by what I heard. These sound GOOD! There went all of my preconceived notions about 5″ woofer systems. There was a clear, pronounced kick drum and bass guitar. The midrange was smooth but not sweet. I was hearing details in the mids I had not heard on songs that I use all the time for reference material. And the highs were present and clear – just like they should be – and not absent or set to "stun."
So after a moment of letting my ears adjust, I thought I'd see how far I could take these monitors. Like most people, my listening environment is not the picture of perfection. I stepped behind my desk and looked at the controls. "Acoustic Space" is a lifesaver. It is a shelving EQ that reduces the bass by either -2dB, -4dB or not at all. This allows you to tailor the speaker response to your room. And don't be afraid to have each monitor set differently. My desk is partially near a corner of a room, so one monitor was set to -4dB and the other was at only -2dB. I also noticed that these monitors are positioned perfectly to be used in a 2.1 system with a selectable cutoff frequency if you so desire.
There was also a mid boost and a HF trim control to further tailor your sound. I found that the mid boost was a very gentle boost across a wide bandwidth – very pleasant sounding. And the HF trim allows you to either cut -2dB, add 2dB or leave the tweeter response flat. Again, just to further tailor your sound to what YOU like.
The last and my favorite feature of the CX5s is their size. These monitors can fit just about anywhere you need. I can't even imagine a setup where these would be too big. And now that I think about it, there are few setups where they're too small. These monitors are LOUD and can fill a room if you need them to.