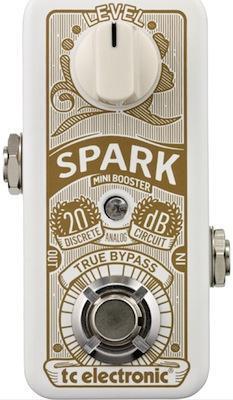 Need a little boost in your guitar playing? Then here's the solution: the brand-new tc electronic Spark Mini Boost! The Spark Mini Boost is a clean boost pedal in a compact enclosure – I love these little "bantam"-sized pedals; they allow you to put together a small pedalboard that still has plenty of power. Perfect for "grab it and go" rigs and gigs.
But small size doesn't indicate a lack of performance. The Spark Mini Boost offers 20dB of gain and transparent sound quality with just a hint of beef in the lower mids. My favorite setup is to run the Spark Mini Boost into an amp that's running just on the verge of breakup. When you really dig in with the pick, you get a nice crunch, but lighten up, and the tone is clean. Then, with the Spark Mini Boost set to 12 o'clock, you get a nice jump in volume, a fatter tone, and a nice singing breakup that's perfect for dynamic leads.
I like to have a clean boost pedal on my pedalboard, but real estate is always an issue. Now, with the Spark Mini Boost, I can always include a great boost pedal without taking up hardly any space at all. Highly recommended!