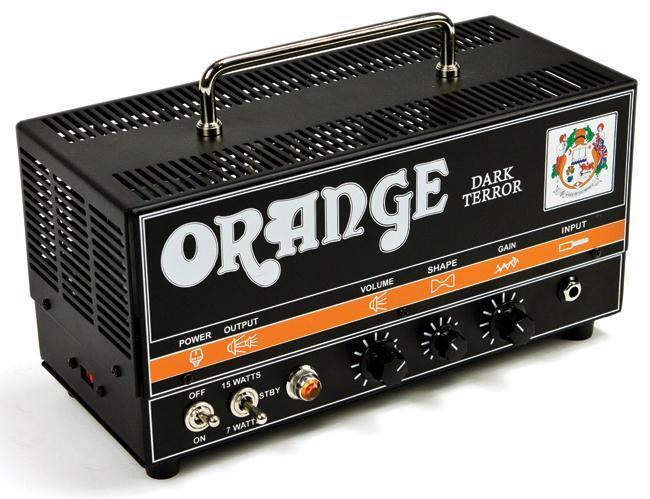 Orange set a new standard for great tone in a compact package with their Tiny Terror amplifiers, and the family has continued to expand with new offerings that provide additional features and tonal colors. If your tonal leanings fall toward the heavier end of the sonic spectrum, then the latest Terror amp, the Dark Terror, is just what you've been waiting for.
The Dark Terror is an all-tube amp that can crank out 15 watts of EL84 power, switchable down to 7½ watts for lower-volume situations or if you want less headroom. The controls are very simple: Gain, Volume, and Shape, which is a powerful tone control. I was pleased to see the inclusion of an effects loop on the back panel; in high-gain situations, it's nice to be able to place delays and other effects after the gain stages for better processing control.
There is a ton of gain on tap with the Dark Terror. You can set it for cleans, light crunch, or '80s-style metal, or you can push the Gain control up for extreme metal saturation. The Shape control does more than just adjust the treble. It simultaneously affects the entire frequency band, creating everything from classic rock tones to scooped metal sounds. There's plenty of sustain; big bottom-end chunk; and fat, rich depth to the sounds the Dark Terror puts out.
In short, if you're after heavy sounds, the Dark Terror can get them, at reasonable volume levels. This amp is also surprisingly versatile. While it is clearly aimed at metal styles, it can cover clean sounds and classic rock sounds as well. The Dark Terror is a killer little amp loaded with tone, wrapped up in a compact, lightweight package with just the right amount of power.