When you're in the studio, your monitors are your main portal into your music, so having good ones is essential. After all, superior recording, mixing, and mastering is impossible if you can't accurately hear what you're doing. Customers often ask Sales Engineers, "What's the best studio monitor?" That's a tough question, especially when you're on a budget. Your monitors need to ensure that your music translates well across listening systems — earbuds, headphones, speakers, computers, and automobile stereos. You also need to LIKE the way they sound. After all, you'll be listening to them for long periods of time. Luckily, Sweetwater carries several studio monitors that offer excellent quality without emptying your wallet.
---
JBL LSR305

The JBL LSR305 is great for mixing music, editing video, or completing any other task that requires accurate sound. The LSR305 features a 5″ woofer (driven by 41 watts) and a 1″ tweeter (driven by 41 watts), and it includes many advanced features from JBL's flagship M2 system. JBL's proprietary Image Control Waveguide creates a wide stereo panorama with a rock-solid phantom center. These monitors also produce a detailed sound with a broad sweet spot, so working on them is a joy. The LSR305 is a top performer, earning the acclaim of renowned engineers, including Frank Filipetti.
---
KRK ROKIT 5

KRK monitors are incredibly popular — you can spot their distinctive yellow woofers in studios all over the world. The KRK ROKIT 5 comes loaded with an innovative Class AB amplifier pushing a 5″ composite woofer (30 watts) and 1″ soft-dome tweeter (20 watts), providing you with the high-headroom, low-distortion performance you need to hear the hidden details of your mix. They offer amazing sound quality and accuracy, and their legendary low-end response makes them a favorite among EDM and hip-hop producers.
---
Yamaha HS5

Yamaha's nearfield monitors, with their iconic white-coned woofers, have been mainstays in studios since the days of the NS-10 (if you don't know what that is, ask your dad). The Yamaha HS5 improves upon Yamaha's original design, employing retooled bi-amplified drivers and a ported enclosure that supplies you with amazing accuracy and incredibly low levels of coloration. Featuring a 5″ cone woofer (45 watts) and 1″ dome tweeter (25 watts), the HS5 is revered for its translatability — if your mix sounds good on a set of these, it'll sound good everywhere.
---
Mackie MR5mk3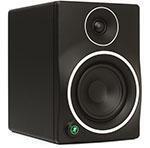 In the '90s, Mackie rewrote the book on nearfield studio monitoring, and the Mackie MR5mk3 is their latest contribution. Its enhanced waveguide provides you with a wider sweet spot, while custom-tuned rear porting ensures smooth, extended bass. On top of that, customizable frequency controls dial in the perfect response for your space. Featuring a 5.25″ polypropylene cone woofer (30 watts) and 1″ silk-dome tweeter (20 watts), MR5mk3s are excellent studio monitors.
---
PreSonus Eris E5

The PreSonus Eris E5 is priced like a high-end multimedia speaker, but that's where the similarities end. Each monitor is loaded with a 70-watt Class AB amp that drives a robust 5.25″ Kevlar woofer that offers excellent low-frequency reproduction with next to no distortion, and a 1″ silk-dome tweeter that delivers smooth and balanced highs. Acoustic tuning controls make contouring your system's frequency response to your room a breeze. Mix a song on these — you'll be amazed at how well it translates from one stereo to another.
---
Focal Alpha 50: Honorable Mention

Even though Focal Alpha 50s cost a bit more than $500 (roughly $600 a pair), by virtue of their top-shelf performance, they deserve a mention. There's nothing budget about these monitors. Inverted 1″ dome tweeters (20 watts) reveal every imperfection of your mix, while 5″ Polyglass cone woofers (35 watts) ensure flawless reproduction over the entire frequency spectrum. These monitors also feature the energy-saving convenience of Focal's automatic standby mode, which cuts power after 30 minutes of inactivity. With their elegant styling and robust performance, you can trust Focal's Alpha line monitors to tell you the truth time and time again.
---
If you're just starting out or recording on a budget, there's no reason to settle for subpar monitoring — that's a bad place to cut corners, especially when you have great bang-for-your-buck offerings like these out there. These compact studio monitors are ideal for converted rooms such as bedrooms and offices, and they deliver superb results. So what are you waiting for? Call a Sales Engineer at (800) 222-4700, and get into a proper set of monitors. Your mixes will thank you for it.