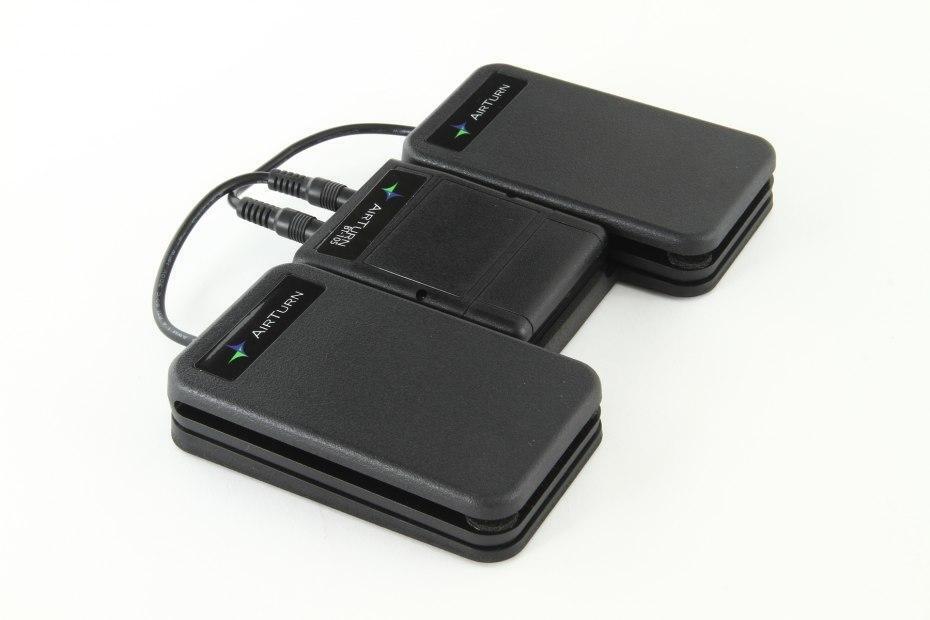 The AirTurn BT-105 comes configured with two footswitches/pedals, which most of us assign to page up/page down functions in our apps and software. But did you know that you can actually use four pedals with the BT-105? One solution for doing this is the BOSS FS-5U footswitch. The FS-5U has the advantage that multiple units can interlock together creating a solid "pedalboard" that doesn't slide around on uneven surfaces or under heavy use.
NOTE: In order for the FS-5U to work properly with the AirTurn BT-105, the polarity switch must be moved away from the pedal's jack (to the right, when looking at the back panel of the footswitch).
You can also use the BOSS FS-6 dual footswitch with the BT-105. When doing so, set the polarity switches to the right (when viewing the back panel), and set the two mode switches to "FS-5U (momentary)" mode.
Whether you have two or four switches connected to your AirTurn, the device can be used to control a wide variety of functions, depending on what your software or app supports. For example, with the Positive Grid JamUp Pro XT iPad app, guitar players can control virtual stomp boxes, effects, amps and presets wirelessly with the 4-pedal and 2-pedal versions of the AirTurn BT-105.