Fender Clones Jeff Beck's 1954 Esquire

Issue #33
June 28, 2006
HERE'S A PIECE OF ROCK HISTORY!

Fender Jeff Beck Relic Esquire Custom Shop Tribute Series LTD (SOLD)
Limited-edition Custom Shop Guitar with Ash Body, Maple Neck, and Vintage Hardware - White Blonde
There are plenty of famous guitars. Stevie Ray Vaughan's "Number One" Stratocaster comes to mind. Then there's Jimmy Page's EDS-1275 6/12-String, Eric Clapton's original, hand-painted Gibson SG, and Steve Howe's ES-175D. The list could go on and on, of course, as Rock 'n' Roll has plenty of iconic instruments. But we're here to talk about a guitar that's only come to be recognized rather recently for its importance in the evolution of rock music as we know it.
The first time I saw this particular guitar on the cover of The Yardbirds album, Having a Rave-Up with The Yardbirds, I really didn't give it much thought. Mostly, that's because so little of it is visible, just the maple neck and a hint of a blonde body with a black pickguard. The rest is hidden behind one of the other band members. But when I heard the sound it produced in Jeff Beck's hands, I was blown away by the raw energy on songs like "Heart Full of Soul," "Shapes of Things," and "Mister You're a Better Man Than I" (which still gives me chills when I hear it today). What kind of guitar was this guy playing? Ah, but let's not get ahead of ourselves.
Although Rave-Up was the first record I bought by The Yardbirds, it turned out that the group had released an earlier album, but it hadn't gotten wide distribution here in the States. For Your Love has the distinction of having both Jeff Beck and Eric Clapton playing on the same album, though not together. Music trivia time: The Yardbirds recorded the song "Hang On Sloopy" about a year before The McCoys, a largely unknown Ohio band released it as a single. Though it's an obvious rip-off of "Louie Louie" (same basic chord structure), it's notable because The McCoys were Rick Derringer's first band and the song eventually became Ohio's Official State Rock Song.
A BIT OF HISTORY
Groups regularly released albums in England that would eventually turn up on our shores, almost always missing several songs (and I don't think anyone has quite answered why that happened to this very day). The Yardbirds' Rave-Up album had one side of studio recordings, while the other side was mainly live performances taken from the group's Five Live Yardbirds U.K. release.
Eric Clapton was the group's first guitar player and even at a young age, he already showed flashes of brilliance. Clapton had been listening to every early blues recording he could get his hands on and was determined to become a great blues guitarist. But when the group released "For Your Love" as a single in 1965, Eric saw the writing on the wall. Despite the song's success, he couldn't imagine sharing tracks with (of all things) a harpsichord, so he departed, suggesting the band replace him with a young session player named Jimmy Page. However, Jimmy was busy cutting tracks in the studio and in turn suggested that the band recruit Jeff Beck. The rest is history.
Clapton joined John Mayall's Blues Breakers, which was more to his liking. There he was free to play exactly the kind of music he loved so much and of course, was probably the first guitarist to plug a Les Paul into a Marshall amp. But Clapton was still restless and only stayed in the band long enough to complete the group's first album. Soon he was off looking for another way to push his abilities to their limits, which was the point when he joined Jack Bruce and Ginger Baker in the supergroup Cream. From this point on, I'm sure everyone knows the Clapton story.
BACK TO BECK
In 1965, The Yardbirds lineup included Keith Relf (vocals/harmonica), Chris Dreja (rhythm guitar), Paul Samwell-Smith (bass), Jim McCarty (drums), and Jeff Beck on lead guitar. While their first U.S release album contained a number of amazingly evocative songs, their second album, Over Under Sideways Down, proved the band could stretch out into relatively unexplored sonic territories with mature compositions such as "Still I'm Sad," "Turn Into Earth," and "Ever Since the World Began."
This was certainly the high point for the group, but as fate would have it, the group's bass player, Paul Samwell-Smith, decided he wasn't cut out for the music business and quit. At this point, Jimmy Page finally joined the band, playing bass until Chris Dreja (the rhythm guitarist) could master the instrument, which fortunately didn't take long. Suddenly, The Yardbirds had two of the most respected guitarists in the U.K. playing together. The only single that came out during that period (at least here in the States) was the sizzling hot "Happenings Ten Years Time Ago."
You'd think that with such a prestigious line-up and with so many ground-breaking recordings, the group could stay together and continue their musical explorations, but in 1966, Jeff Beck was either fired or quit the band (depending upon whom you ask) after a tour stop in Texas. Jimmy Page now carried the torch as lead guitarist. Unfortunately, their 1967 album, Little Games, was notable only because it was such a resounding flop, both as an album and as a single of the same name. The Yardbirds played their final gig in July 1968, after which Page formed another supergroup you might have heard of, Led Zeppelin.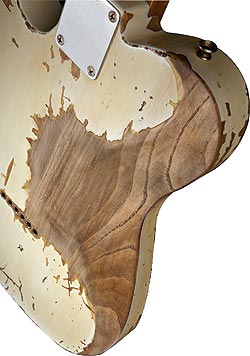 Every single nick, scratch, stain and cigarette burn has been meticulously duplicated down to the smallest detail.
JEFF'S FENDER ESQUIRE
Oddly enough, it wasn't until Guitar World magazine published "Guitars That Shook the World" in 1995 that I learned that Jeff Beck played all his guitar parts on those early Yardbirds recordings using a 1954 Fender Esquire he'd bought for the lofty sum of $60 in 1964. The Esquire, as we now know, was the single-pickup version of the more famous dual-pickup Telecaster. Keep in mind that there was virtually no information readily available on specific guitars in the '60s and even the '70s. If you wanted to know something about a particular instrument, the only place to go was to a dealer that handled a particular line. It wasn't until Guitar Player magazine finally came along that we all started our real world education.
Now the most interesting thing about the Fender Esquire that Jeff bought - at least cosmetically - was the contour the previous owner had carved into the top. Obviously, he really wanted a Stratocaster, but those were few and far between in the U.K. So he decided it would be just fine to smooth out the top edge of this particular Esquire, right where the right arm drapes across the body. This would (in theory) duplicate the contours found in the Strat. Naturally, this is something nobody in his or her right mind would do today, but back then, a guitar was just a guitar.
During the time that Jeff owned this guitar, he destroyed a number of necks, so that the current neck on this particular Esquire was actually made in 1956. In 1974, Beck gave this guitar as a gift to pickup guru Seymour Duncan, who wisely kept the instrument in the same condition as the day he received it. Of course, there's no way to possibly put a value on this guitar (even if Duncan ever decided to part with it).
| | |
| --- | --- |
| | The Sweetwater Guitar Gallery is your key to purchasing guitars from the convenience of your computer or phone. We've taken the time to shoot our own custom images of unique guitars we have in stock so you can see differences in wood grain, finishes and other qualities. This way you can see actual guitars available at Sweetwater from the comfort of your home, studio or office. |

Fender Jeff Beck Relic Esquire Custom Shop Tribute Series LTD

(SOLD)


Limited-edition Custom Shop Guitar with Ash Body, Maple Neck, and Vintage Hardware - White Blonde
With all this in mind, Fender decided that it would build a total of just 150 Limited Edition replicas of this legendary Esquire. With the original in hand, every single nick, scratch, stain, and cigarette burn has been meticulously duplicated down to the smallest detail and the end result is, well, downright spooky! There's no way that any rational person would look at this guitar and think it was built in the 21st Century, that's how accurate it is. Even the tarnish on the metal parts looks spot-on authentic!
Look, the odds of a 1954 Fender Esquire turning up for sale today are about zero. The closest we will ever get to owning one is with this once-in-a-lifetime Limited Edition guitar. But considering the fact that Fender is only building 150 of them, this is guaranteed to be a precious commodity somewhere down the road. Yes, you can quote me on that!
Questions? Comments? Discuss this article in Jim Miller's Forum
Questions, comments, rants, suggestions, unwanted '62 Stratocasters and any other form of correspondence can be addressed to jim_miller@mindspring.com.