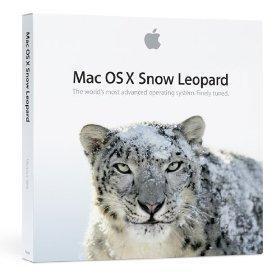 The end of August saw the release of the latest operating system from Apple: Mac OS X version 10.6 (a.k.a. Snow Leopard). This is the first version of OS X to offer a 64-bit kernel mode. This is also the first version to require an Intel processor; it will not run on G5 or earlier processors. Both 32-bit and 64-bit operation are supported, in order to provide backward compatibility with existing applications. This Snow Leopard version of Mac OS X is about 7GB smaller than the previous Leopard (OS X 10.5) version. Numerous other enhancements and improvements have also been added, and the speed of the operating system and 64-bit applications should be greatly increased.
With the release of any new operating system, compatibility with existing software is a concern. Fortunately, update reports have already started coming in; for the latest on Snow Leopard compatibility, be sure to tune in to Sweetwater's daily inSync internet newsfeed.
Here's where we're currently at: many products are working fine running under 32-bit mode (though they may not be officially supported by the manufacturers, so proceed at your own risk); 64-bit support is not common at this point.
Ableton Live seems compatible, but it is not officially supported yet. Upgrades are on the way for Live 8 and Live 7.
Antares has released new versions of all their products that are Snow Leopard compatible.
TheApogee One user guide states that the interface is Snow Leopard compatible. Snow Leopard updates are available for the Duet and other Apogee interfaces.
Apple Logic Studio has been confirmed Snow Leopard compatible.
BIAS has confirmed that SoundSoap 2.2, SoundSoap Pro 1.2.1, and Master Perfection Suite 1.2.1 are all compatible with Snow Leopard. Peak Pro 6.1.1 is largely compatible, but it may have some cosmetic issues and other minor problems.
Digidesign says that users should wait to upgrade until Snow Leopard support is confirmed.
Edirol and Cakewalk have announced updated Snow Leopard drivers for their interfaces.
Euphonix announced Snow Leopard compatibility at the recent IBC show in the UK.
Focusrite has tested their Saffire family of interfaces and reported no problems with Snow Leopard.
IK Multimedia has tested their products with Snow Leopard, both running standalone and in Logic, and will be testing other host platforms soon.
M-Audio says that users should wait to upgrade until Snow Leopard support is confirmed.
Make Music says that Finale 2010 is compatible with Snow Leopard, except for two very minor issues related to the Aria player.
MOTU says that most of their applications have already been made Snow Leopard compatible, including the brand-new Digital Performer 7. The only exception listed is Ethno, which will be compatible soon. Snow Leopard updates are now (or are soon to be) available, with 64-bit support said to be on the way. MOTU also has Snow Leopard-compatible drivers ready for their FireWire/USB2 audio interfaces, FireWire video interfaces, PCI-424 audio interfaces, and USB MIDI interfaces.
Native Instrumentsproducts seem compatible, but caution is urged.
PACE drivers have been confirmed Snow Leopard compatible.
PreSonus says: "We are happy to announce that all of our interfaces are ready for Snow Leopard! The AudioBox, the FireBox, the Inspire, and the FP10 work with Snow Leopard right now – no updates required. And we have just released a public beta of our Universal Control 1.1 control panel software that makes all FireStudio series interfaces, as well as the StudioLive 16.4.2 digital mixer, compatible with the new operating system. The public beta of Universal Control 1.1 is available now at the PreSonus website."
Propellerheadshas confirmed that their products are compatible, but they may have minor graphics issues.
RME has released new drivers for Snow Leopard compatibility.
Sibeliushas been confirmed compatible; an update is available.
Steinberg is not yet officially supporting Snow Leopard and does not recommend upgrading at this time.
All of the drivers for TASCAM's USB interfaces have been confirmed compatible.
64-BIT SUPPORT
Remember that what we're talking about is 64-bit data support, not 64-bit audio support; the two are not related in any way.
Though one DAW company, MOTU, has announced they are working on 64-bit audio support, I don't look for 64-bit support to really become common until the plug-in and virtual instrument manufacturers sort it all out. There's little reason to have a 64-bit DAW if you break all the third-party plug-ins in the process! Plus, RAM limitations (one of the big things that 64-bit operation helps with) aren't a serious problem with most audio applications, so the incentive to move to 64-bit isn't overwhelming for many manufacturers.
It will happen, but I'm not looking for it for a while yet.