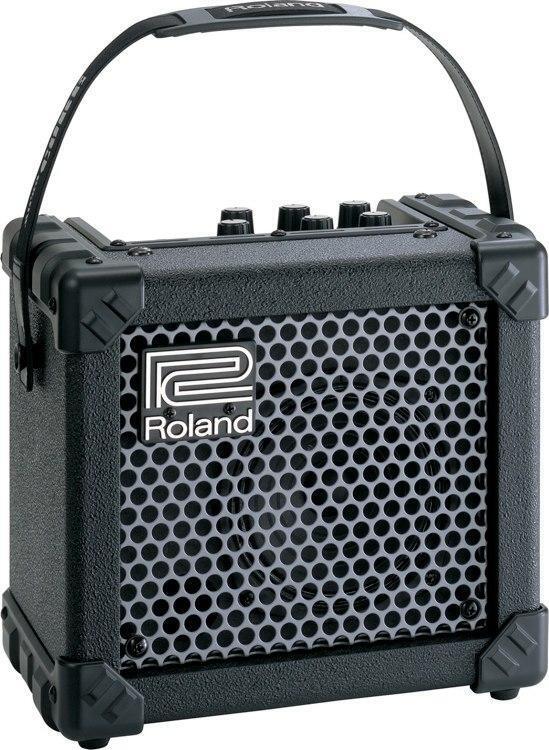 ...this little MicroCube does a great job of accomplishing the assignment.
Although the Roland MicroCube is one impressive little guitar practice amp, at first sight, many might overlook it. Something you might hear the guitar purist say is, "Why in the world would I want to play on that little 2 watt amp when I've got my AC30 right here that sounds great and fits all my needs?" Why don't we put that question to rest.
The MicroCube is obviously small in stature. At 9-5/8″ x 6-9/16″ x 8-15/16″ and 7.5 pounds, it's one of the smallest practice amplifiers on the market. Which in this case, is exactly what Roland was shooting for. It's also quite small as far as amplification goes. It's only got a 5″ speaker with a 2 watt driver. But you'd never know that the cabinet, speaker and amplifier were that small if you'd never actually seen the piece of gear. I'm not claiming that this thing will replace your half stack or even your combo amp. What I am claiming is that if you are looking for something that is small, portable, convenient, and able to model various amplifier sounds, this is the practice amp for you.
The amp models are fairly realistic, sound pretty good, and you can't really overdrive the amp to poor distortion. They've done a great job of matching the amp to the speaker here and really sounds good, even at pegged out settings. Whether it be a Vox AC30, Fender Twin, or Marshall stack, this little MicroCube does a great job of accomplishing the assignment. With six different effects, seven amp models (including a microphone preamp model), and able to be battery powered, the only word that I have to describe this is, "Wow!"