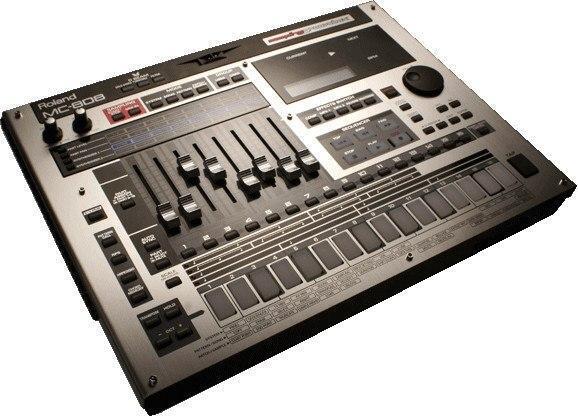 The Roland MC-808 sampling groovebox really shines when it comes to a do-it-all "beat box." This is a deep unit – not only does it have great rhythm tracks, it can also serve as a powerful sequencer with real synthesizer features to boot. Right out of the box, I realized the power this machine has under the hood.
From sampling to building tracks, from editing to mixing, this is a top-of-the-line DJ's dream come true, but with the special added bonus of 8 motorized faders. I started to listen to the patterns and was immediately swept away in rhythm mania. While playing along a unique melody on the sixteen keyboard-style pads, I thought, "This is a blast!" It's a really cool feature if you have any keyboard skills at all, because it's simple and intuitive. It allows the user to become one with the device very quickly. Plus, learning the features is just more fun through the experimentation process.
One of the most interactive features on board the Roland MC-808 is the D Beam control. I had great fun using my hand to add a synth part, in real time, over the infectious groove streaming out of my system. This is a must-have for a "beat monster" who loves to create his own styles and rhythms. The MC-808 is a concept-to-completion machine and you can store your all ideas into your computer via USB or by using up to a 1GB Flash card. If making beats is your thing, pick one up – you'll be glad you did!