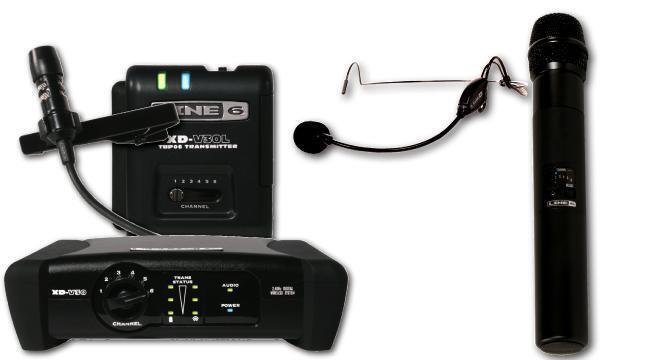 At Sweetwater, we've watched digital wireless go from theoretical to unobtainable to, finally, accessible. That last step has been largely due to the advances made by Line 6, whose XD series vocal systems are part of the latest generation of digital wireless gear. These amazing systems deliver unmatched wireless performance and reliability, free from the interference and the loss of sound quality that plague traditional wireless systems. With digital, you'll never have to check to see what frequency bands are available, nor will you suffer the sound-quality-killing effect of companding.
The transmitters and receivers are second to none, with removable antennas and built-in antenna distribution, all built road tough. These systems feature a dynamic environment filter, which reduces background noise. But the real stars are the handheld mics, which feature some of Line 6's most innovative modeling technology.
The XD-V30 features a single mic model. The XD-V70 comes equipped with six models. The XD-V70 also features a seventh "super" model, which combines the best qualities of top dynamic and condenser mics. Plus, you can switch out the mic's capsules with compatible capsules, to further customize their response. These XD mics will absolutely change the way you think about wireless technology!