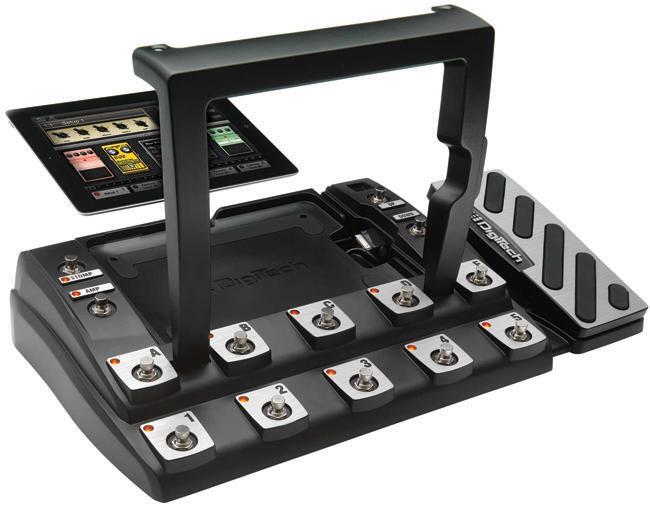 Anyone who's ever had to suffer through dialing in settings on a tiny LCD screen will certainly appreciate the sheer ingenuity of the DigiTech iPB-10 programmable guitar multi-effects pedalboard. Unlike the primitive multi-effects pedals of the past, the highly sophisticated iPB-10 allows you to integrate your iPad or iPad 2 directly into its intuitive interface, providing you with an extraordinarily simple effects-programming environment as well as unparalleled visual feedback for live performance. Once you perform with the DigiTech iPB-10, you'll wonder how you ever got by without one.
Using the iPB-10's iPad interface, you can simply drag-and-drop the effects you want into any configuration you like. The iPad's multi-touch environment makes setting up your effects faster than even the most streamlined computer-based guitar-processing software. To tweak your effects, just grab hold of the virtual knobs and dial them in as you would with any hardware stompbox. And with 87 iconic stompboxes, 54 classic and modern amps, and 26 realistic cabinets to choose from, you're never going to run out of tones!
The guitar effects processor beneath the iPB-10's iPad-enhanced surface features DigiTech's top-of-the-line stompbox and amp modeling. Because all of the effects processing is done by the iPB-10 itself, you get both a huge range of sounds and serious effects-processing power even if you leave your iPad at home. Run up to 10 different pedal effects at once, plus an amp and a cabinet model. You can even store up to 100 custom pedalboards. And with both dedicated footswitches for individual pedals as well as presets, all of your favorite tones are just the click of a footswitch away. Talk about an amazing live guitar multi-effects box!