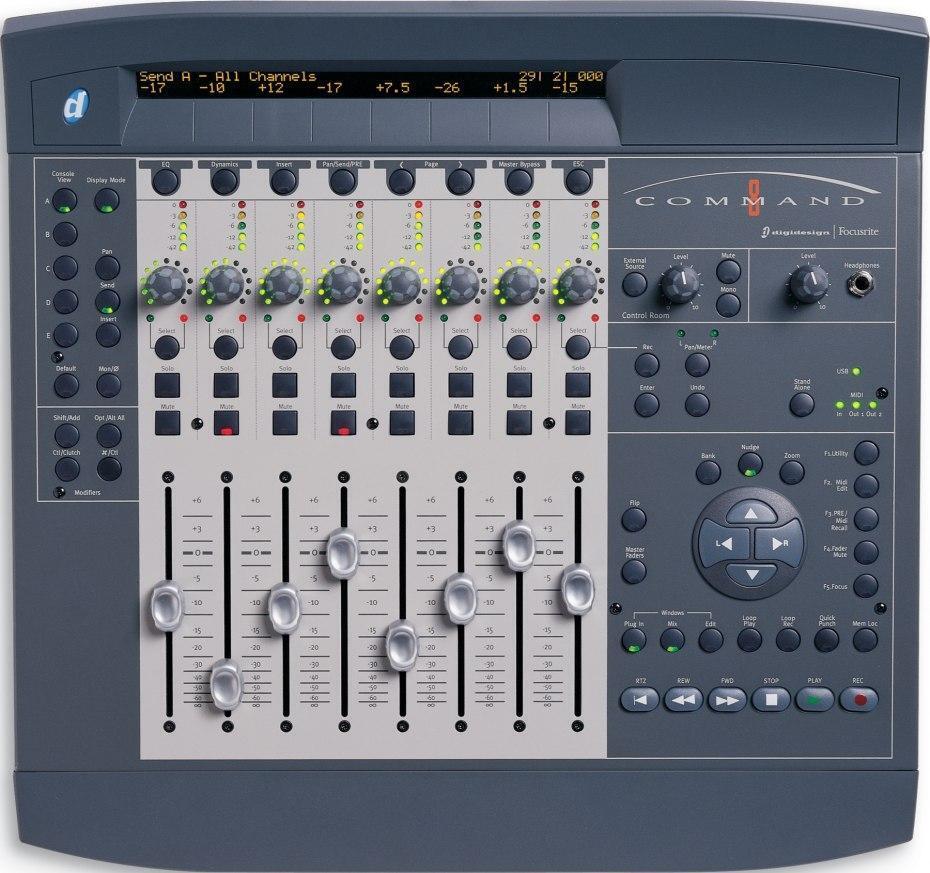 You will immediately feel more in control of your work, and find yourself creating more natural feeling mixes in half of the time.
The Command|8 from Digidesign is a dream come true for many Pro Tools users. Over the last few years, many users both LE and TDM have been watching the market for a good, reasonably priced control surface. Before now, many users did not feel comfortable paying for a surface for fear that it may be removed from Digidesign's support listing, or that it may not interface with Pro Tools in an effective manner. All of those worries have finally been put to rest.
Digidesign's Command|8 control surface features eight touch sensitive motorized faders, eight rotary encoders, full transport control, and a slew of others buttons that allow you to access the major functions of Pro Tools without ever reaching for a mouse. In addition to the control surface, the Command|8 also features a Focusrite monitoring section for routing your Pro Tools hardware, and an external source for control room monitoring, mono summing, headphone monitoring, or muting, right from the mix position.
I used the Command|8 for two sessions in my project studio, and immediately felt the benefits of having this unit at my fingertips. Rather than clicking through my screen, and selecting a plug in, within one or two pushes of a button I was editing plug ins on the eight rotary encoders or faders just as if they were rack units. Turning a knob by clicking it with a mouse just does not make you feel like you are a part of your equipment. This surface brings the art back to mixing. The faders are smooth and extremely responsive, eliminating all of the delay that users have come to know from older MIDI control surfaces. The Command|8 uses a high speed USB connection to prevent any latency between your movement on the surface, and the computers interaction time. The Focusrite monitoring section came in handy, eliminating the need for me to turn over to my Digi002 rack to adjust the control room volume. The Command|8 also operates in a stand alone mode, allowing you to control other software programs that can except MIDI data for control. For example, you can adjust many of the parameters in Reason with Command|8. Users who are not used to working on a control surface will find the adjustment to be headache free. The layout of Command|8 is incredibly logical, and all of the functions are exactly where you would want them. The largest benefit to using a Command|8 is the increased work flow.
You will immediately feel more in control of your work, and find yourself creating more natural feeling mixes in half of the time. Doing fader moves, and automation passes is much easier when working with faders and rotary knobs as opposed to dragging a mouse and hoping for a smooth pass. Space is also a limitation in my personal studio, and the Command|8's small footprint helped it fit in perfectly. Users with space limited work areas won't feel crowded by the control surface at all.
All of these incredible, and "natural feeling" features at such a low price make the Command|8 a must have for thousands of Pro Tools users, both TDM and LE alike. I give it a perfect 10!