The Centerpiece of Your Studio!
The Universal Audio 4-710d combines four 710 Twin-Finity mic pres into a single unit with A/D conversion and costs less than three original 710s combined! But that's not all. The preamps take a Class A FET preamp circuit and a completely separate Class A triode tube preamp and give you the ability to blend the two signals together to taste. While they were at it, Universal Audio also added a simple 1176-based compression section to each channel. Now it's even easier and more cost effective than ever to add a set of these fantastic hybrid preamps to your studio.

Four 710 Twin-Finity mic preamps with compression
Most sound engineers know about the Universal Audio 710 Twin-Finity mic preamp — an award-winning design that's standard equipment in top studios and live rigs worldwide. The UA 4-710d features four of these bad boys and comes in well under the price of four separate 710 units. Each channel also offers UA's newly designed 1176-style compression circuit. Not only do you get top-notch-sounding preamps, but you can dial in the exact amount of compression you need to make your sound source punch through the mix.
Phase-aligned "tone blending" of tube and solid-state
Each of the four mic preamp channels on the 4-710d allows for choosing between a 100% solid-state and 100% tube signal path, or any mix of the two that you desire, using a continuously variable control. Don't get stuck having to switch preamps every time you want a different sound, or worse yet, get stuck with only one sound to work with. Go from pristine to euphonic with Universal Audio's 4-710d blendable solid-state and tube signal paths.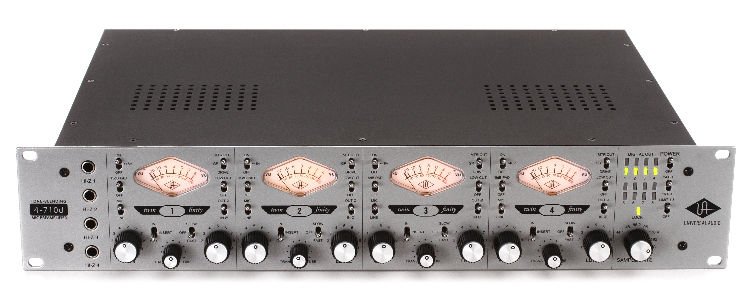 Onboard A/D conversion with digital outputs
As if the Universal Audio 4-710d doesn't do enough for your studio, the eight analog inputs are also digitized via 24-bit A/D converters up to 192kHz. Digital output is available via dual ADAT "lightpipe" or AES/EBU DB-25 connectors, giving you effortless compatibility with most popular audio interfaces. What's more, you can even input up to four other analog mic preamps through the 4-710d to access its superior A/D conversion.
Universal Audio 4-710d 4-channel Microphone Preamplifier Features:
Phase-aligned "tone blending" of tube and solid-state
Newly designed 1176-style compression/soft-limiting circuit on each mic channel
Monolithic balanced output stage
Dual gain stages
Balanced send/return inserts
Discrete JFET DI with 2.2M ohm ultra-hi-Z impedance
70dB+ of gain, +48-volt phantom power, pad (15dB), phase invert, and low-cut filter (75Hz)
Front-panel hi-Z input (switched from mic/line)
Rear-panel XLR mic input, XLR line input, and XLR line output
Digital output via dual ADAT optical or AES/EBU (DB-25)
8 channels of high-quality 24-bit/192kHz A/D conversion