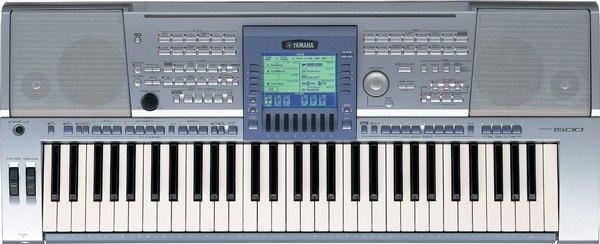 Big things DO come in small packages!
The Yamaha PSR 1500 is truly remarkable a keyboard that deserves more than just a casual glance. It is a feature rich keyboard in a small package, with sounds (and sound quality) that might surprise a good many people…. including me!
After auditioning this robust keyboard / arranger for some time this past week I may have come away with a new attitude toward the smaller cousins of the larger, more expensive workstation keyboards that are found within the PSR series by Yamaha. If you are looking for a portable, efficient solution to your need for quality sound and sequencing, with a great feature set, and for a price that won't break your bank – this could be your keyboard!!!
Feature Intensive!
First let's talk about the thing that ends up being the bottom line for so many users… sounds and sound quality. The PSR 1500 boasts a huge and varied set of very usable sounds… from strings to pianos, drum kits to reed and orchestral, brass to FX, all done with excellent attention to detail and very well sampled. One of the things that surprised me was the attention to the instrument decays and timbre as the individual notes were held and the sound would start to fade. Yamaha has taken obvious time to accurately sample the true nuances and timbral individuality of may of these instruments right down to a very precise detail. The Sax, Trombone, Strings, Pianos, and some of the Vocal patches come immediately to mind bringing with it a fond smile of remembrance. The speaker system and onboard internal mixer are more than adequate for very realistic playback of in any close surrounding, and make it a "no brainer" for practicing when volume might be an issue. But for a real treat… take the direct outs from the PSR and hook them up to your PA or keyboard amp! Very impressive on its own, and much more so when considering that this keyboard only weighs in at 25 lbs!
Portability
I mentioned the 25-pound weight. That brings me to the next feature of this keyboard…. this thing is portable! Not just portable in the "we can technically call this portable" sense of the word, it really IS portable. Anyone can pick this keyboard up, stick it under their arm, got to almost anywhere (where there's power), plug it in, turn it on, and go to work. This can be a great benefit to anyone (pro or not) who wants, or needs, to be able to quickly stow and go – but still wants their sound and functionality to be real. Any teachers / students will love this…. also any composers who want to work on arrangements or pieces on the go without having to haul a large workstation around with them. For myself I would love to have one of these around to work on "projects in progress"… so many times I have come up with a great idea or part in an odd place, or at an odd time, only to have to go to my studio… turn everything on…. try and remember what I wanted, and work on it then. I can think of several times that I could have greatly benefited from one of these babies. This is the perfect "keep it with you" keyboard.
Onboard Sequencing and Song Play/Style Selection
OK this might seem to be a little in depth. But its cool enough that it warrants going into. The PSR 1500 includes within it a full-featured 16-track MIDI sequencer. This can be used in a number of ways, for a number of different applications. First… You can make, edit, and arrange your own sequences to your heart's delight! If you are looking for a small, easily portable instrument that allows you to easily and quickly put full orchestrations, or quick arrangements or ideas together, this thing is for you! It also contains many preset "Styles" that are perfect for roughing out a basic idea and perfect for finding your way out of the all to familiar "writer's block" syndrome. Just start one up and jump in! Also for any students among us, the sequencer allows for the playback of the exceptional menu of pre-sequenced songs that are already in the PSR – allowing for immediate playback gratification. You can import additional songs (the keyboard easily connects to your computer via USB). And the songs can be presented in a scrolling staff format on the very ample LCD screen in the center of the keyboard console.
I found that playing with the "Style" and "Song" modes – something that I thought I might only dabble in for a couple of minutes – ended up being a couple of hours of fun…. I only stopped because I had to go to sleep.
Connectivity & Data Storage
The PSR contains a built-in web browser. Once hooked up to your computer via the USB connection, the keyboard automatically knows where to go to look for any new sounds that might be downloadable. The sounds go directly into the user memory of the keyboard where you have the ability to edit them to your needs, or just save them and use them as they are. And for sound and Song/Sequencer storage the PSR utilizes a slot for Smart Media cards making quick storage of your works and ideas a pretty easy task.
Easy to use!
This keyboard is a cinch to use. With very little help from the included manual, I was able to be off and running (playing, finding & playing songs, checking out the Styles, and Sequencing) very quickly after I opened the box. The most used functions are easily locatable around the outside of the LCD screen. Other functions are well-marked and mostly intuitive to use. All in all this keyboard was a pleasure to play and use. An excellent first keyboard buy and an excellent addition. Any one looking for real features and real portability should take a look at the PSR 1500.