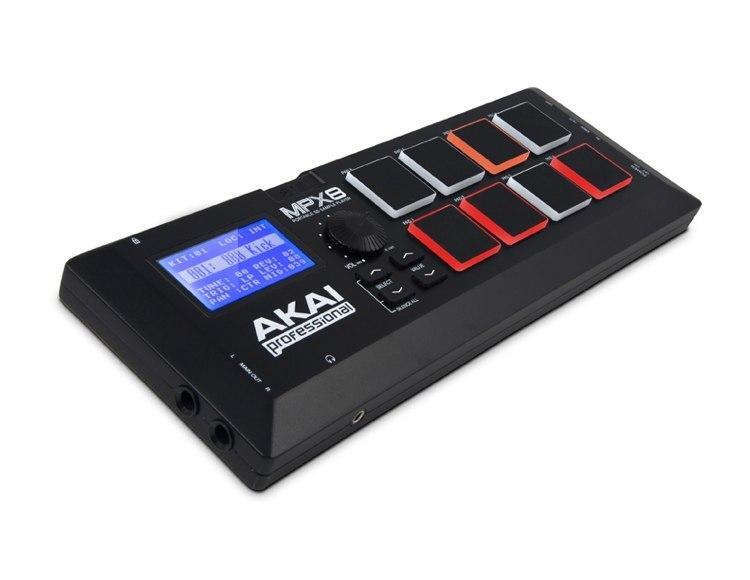 Every now and then, when a cool musical gadget comes out, I have to invent a reason why I "really" need it. Sometimes my reasoning is less logical and more whimsical. Other times it's easy to see why a gadget would solve several problems. Akai Professional's MPX8 SD sample pad controller appeals to both sides of my brain, and its low cost makes it easy to save up for.
Basically, it's a sample player with eight velocity- and pressure-sensitive pads with red/green/orange backlighting, a backlit display screen, left/right 1/4″ balanced outputs, a stereo 1/8″ headphone output, MIDI in/out, SD card slot, USB slot (for power and MIDI), four data buttons, and a data wheel.
You can use the included USB cable to get power from your computer's USB port or use the included A/C power supply that connects to the USB cable. It's important to reiterate that USB is used only as a power source and one of two ways to get MIDI in and out of the MPX8. The other way to use MIDI is via their 1/8″-to-MIDI in/out cables. Samples are transferred from the free Mac/PC MPX8 Editor to an SD card (not included) that then slides into the MPX8.
The Editor software is a welcomingly simple "drag-and drop" app that lets you quickly build "kits" of eight WAV samples assigned to the eight pads. You can have up to 30MB of samples per kit, and each SD card can have up to 99 kits. (SD or SDHC cards can be up to 32GB in size.)
Akai Professional's website provides over 360MB of sample loops and 120MB of drum and percussion samples ready to drag-and-drop. You can also load in any of your own mono or stereo 16-bit WAV files with sampling rates of 48, 44.1, 32, 22.05, or 11.205kHz.
Each pad can be separately programmed for tuning, reverb amount, volume level, panning, and MIDI note number. You can also choose between three trigger types: one-shot (plays the entire sample then stops), hold (plays the sample for as long as you hold the pad, looping if necessary), or loop (plays the sample endlessly until you press the pad again). Once you have your WAV samples on an SD card, you can also create and save new kits on the fly directly from the MPX8's front panel.
Here are some real-world uses for this under-$100 gadget: sound FX library for theatrical productions, easy-to-cue song library for dance recitals, front-of-stage instrument for drum pad or bass pad solos, staggeringly simple DJ remix tool, and my favorite — a way of leaving your big sampler at home when you have to fly your gear to a gig in another state, or as an emergency backup to your main sampler keyboard. Backline keyboards can provide your standard keyboard sounds, while the MPX8 provides the sounds only your personal keyboard could make.
I'm sure there are many more possibilities that I've overlooked, so call your Sweetwater Sales Engineer today for more on this incredibly useful device.