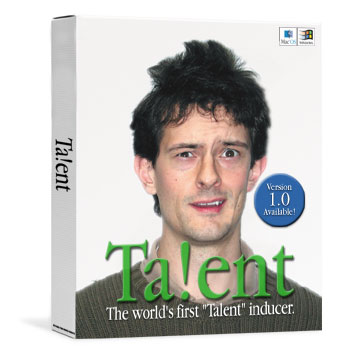 SWEETWATER INC MAKES A STRONG ENTRANCE INTO THE PLUG-IN MARKET
Sweetwater's Research & Development department announces the release of its first plug-in: Ta!ent
Ta!ent is a TDM/RTAS/VST/DirectX/MAS/MOUSE plug-in that puts professional musical accomplishment within the reach of everyone. It's the ideal solution for the musician whose skill level at his or her chosen profession falls far below the standard for even rudimentary competence.
Dave Stewart, Sales Manager at Sweetwater and consultant for Sweetwater's R&D department, explains the development of Ta!ent "We were hearing from a lot of people in the entertainment industry," Stewart says. "They were concerned by the number of talentless but extremely attractive people they were seeing. They approached us with the idea of turning all these Baywatch extras and former stars of cancelled television series into mega-platinum music acts."
The secret behind the Ta!ent plug-in? Sweetwater's proprietary Creativity Resource Object Compiling/Brilliant Synthesis (CROC/BS) technology. "We sat down with all the major musicians and songwriters of the last 50 years and modeled their talents," says Stewart. The results are incredible. The plug-in is extremely easy to use, and can turn virtually anyone into the musician of their choice.
"It's very simple," says Terry Lee, Sweetwater's Chief Scientist. "Just crank up the BS control, and the CROC circuit goes into action."
Ta!ent comes with an enormous number of presets, everything from Large Opera Singer (male) to Pneumatic Pop Star (female). For example, dial in Grizzled Blues Man and a nineteen-year-old white male surfer from Australia who has never picked up a guitar in his life can sound just like a 70-year-old blues man from Chicago who has spent decades dedicated to his music.
"Once upon a time, it required musicians and songwriters years of dedication and practice to achieve the sound they want," says Robin Jenny, Sweetwater's studio manager. "Now, people can have that authenticity in a snap, and the performers are far more attractive. Have you seen some of our most treasured artists recently? Very unattractive people…"
Troy Hartman, Sales Manager at Sweetwater, sees the appeal for Ta!ent going far beyond the entertainment industry. "There's a virtually unlimited market out there for Ta!ent" Hartman says. "Many of our customers are engineers and producers who tell us they constantly have to work with no-talent musicians who don't want to spend the necessary time it takes to master an instrument. With the Ta!ent plug-in, our customers won't have to waste precious energy and studio time explaining concepts like 'tuning' and 'harmony' to people who don't really care
anyway. And the musicians gain all the benefits that come with being an artist, without wasting one second of posing time."
For Sweetwater President Chuck Surack, the Ta!ent plug-in is the realization of a long-held dream. "At Sweetwater, we love music technology," Surack says. "But I always thought it was too bad that music technology can do everything for the musician and audio pro except provide the talent. Now, thanks to our groundbreaking CROC/BS technology, we've changed that. Ta!ent, will introduce thousands of musicians to the full benefits of today's high-end music technology equipment."
Sweetwater will begin taking orders for Ta!ent immediately. The product should be ready to ship by NAMM 2003.
Happy April Fools Day from the folks at Sweetwater!
Unfortunately, while we can't sell you Talent (yes, this still requires tons of perseverance, practice and patience), we can sell you just about anything else that will help your music be successful. Call us at (800) 222-4700 or visit us online at https://www.sweetwater.com/ today and see for yourself everything that Sweetwater has to offer.