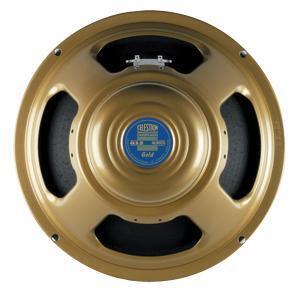 Every year, Sweetwater adds many of the hottest and best products on the market to our ever-expanding catalog. This year we've added a large selection of replacement speakers, boutique effects pedals, DJ lighting, and replacement guitar tuners — and much more.
Celestion Speakers
If any speaker company in the world is a household name, it's Celestion. Celestion has helped to shape the sound of rock 'n' roll since the 1950s. From Jimi Hendrix to Angus Young to Eddie Van Halen to Slash, many legendary players have made Celestion an integral part of their sound. When guitar players talk about getting that British sound from their amp, a good part of that has to do with the speakers. And Celestion is the British speaker. Many amps come with Celestion speakers, stock, such as those from Marshall, Vox, and many others. For many guitar players, upgrading the sound of their amp means changing out their speaker. Now you can upgrade your amp's speakers to true Celestion speakers. Whether you want a Greenback, a Vintage 30, or the Eddie Van Halen signature, Sweetwater has the Celestion speaker you want.
Red Witch

Hailing from New Zealand, Red Witch boutique effects pedals have arrived at Sweetwater. Red Witch pedals are known for their innovative and unique designs. The Red Witch Titan is an analog delay pedal on steroids. You get three totally separate delays that you can mix together to create cool textures and rhythmic delays. The first delay also includes an effects loop, so you can mix in your favorite pedal to add something extra to your sound. Red Witch's Medusa is a sought-after chorus/tremolo unit. You can mix the chorus and tremolo effects to create the signature deep and lush Medusa sounds.
Among Red Witch's newest and most popular pedals is the Seven Sisters series. These microsized pedals feature distortion, overdrive, fuzz, compression, tremolo, and more. The most innovative feature of the Seven Sisters pedals is that they are rechargeable. Utilizing lithium-ion batteries, similar to those used in cell phones, these pedals can last up to 120 hours per charge. Every Red Witch pedal features true-bypass switching, heavy-duty die-cast aluminum cases, and detailed construction. Take your pedalboard to a new level with Red Witch pedals.
Eminence Speakers
In the last 40-plus years, Eminence has grown to be one of the largest speaker manufacturers in the world. From replacement PA speakers to signature-model guitar speakers, Eminence covers the full range. Over the last few years, Eminence has developed a large selection of guitar speakers with various tonalities and characteristics, to suit almost every guitar player out there.
Whether you prefer the American or British sound, alnico or neodymium magnets, or paper or hemp cones, Eminence has the speaker you want to really hot-rod your rig. Sweetwater has posted sound samples for the instrument speakers in the Eminence line, so you can hear how they sound and react to different styles of music and changes in gain. Each speaker has three sound samples: clean, heavy, and overdriven. This helps take the guesswork out of choosing the perfect speaker for your playing style. Be sure to check out the new Eric Johnson signature speakers from Eminence!
Grover
The quality of the tuners on your guitar can make a huge difference in your playing. Low-quality tuners won't hold pitch, and they can slip and cause other issues that can make your performance a train wreck. High-quality tuners will keep you in tune all night long, letting you gig with confidence. Sweetwater now carries Grover replacement tuners for all your guitar needs. Covering everything from acoustic to electric to hollowbody guitars, Grover tuners are a perfect upgrade for your current tuners. Many manufacturers, including Gibson and Epiphone, use Grover tuners on their guitars to give them the most stable tuning possible.
Chauvet Lighting
Sweetwater welcomes Chauvet Lighting, for all of your DJ and lighting needs. DJs love Chauvet for the great selection of lighting effects, which give the gig an extra edge. Bands love Chauvet's quality stage lighting. With changes in lighting technology, Chauvet systems now use LEDs to provide longer life, lighter weight, and reduced power consumption. Each unit has built-in programs, but can also be linked together and controlled in DMX mode. Besides being great for DJs and bands, Chauvet lights are perfect for clubs, churches, museums, and other facilities that require fixed installations. Add the right light and color to your next gig with lights by Chauvet.
Keeley Electronics
Robert Keeley needs little introduction to guitar players. Known as one of the kings of pedal mods, Keeley has modded pedals for Brad Paisley, Peter Frampton, Donald Fagen, and countless others over the years. Keeley has released his own line of pedals over the last few years, to critical acclaim. This year Sweetwater has added Keeley to our boutique pedal lineup.
The newly introduced Keeley Phaser features a 6-stage analog circuit for lush, swirling phase sounds. Besides the tap tempo features, the Phaser also offers a cool Ramp switch. You can set your fast speed and slow speed, and switch between them, much as you would with a Leslie speaker. Be sure to check out the Keeley Electronics boutique pedal lineup when you're looking for pedals on Sweetwater.com.
Sweetwater is happy to welcome all of these great manufacturers in 2012!