How to Choose a Sound Module
From rackmount digital models to tabletop synths to groove machines, sound modules let you add color and texture to your music. They also provide a ton of flexibility both in your songwriting studio and in your live performance rig. This Sweetwater Buying Guide takes a look into the types of sound modules available today and how you can put them to use. For even more valuable insight, give your Sweetwater Sales Engineer a call at (800) 222-4700.
Sound Module Benefits
Sound Modules Explained
Tabletop Synthesizers
Samplers
What to Look For…
---
Sound Module Benefits
In a world dominated by virtual instruments, a hardware sound module might seem outdated. They're not. Sound modules feature a zero-latency response that even the fastest computers today can't provide, which is critical to many professional keyboard players. In addition, their reliability is unparalleled; sound modules simply don't crash. Lastly, there's the form. By cutting out the keyboards, you can comfortably pack a roomful of synthesizers into a grab-and-go rig.
---
Sound Modules Explained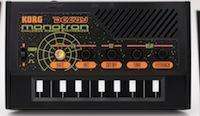 Korg monotron DELAYIn past years, a sound module referred to the part of a keyboard that generated sounds. Popular digital keyboards included a module version in their lineup (usually rackmountable), which could connect to a main keyboard via MIDI. This format lets keyboard players travel light, while dramatically expanding their sound selections. They're also apt for the studio, because they give you a ton of quality sounds without taxing your computer's resources. What's more, some digital sound modules include plug-in control software that lets you edit, save, and recall settings in your DAW, just like a virtual instrument.
---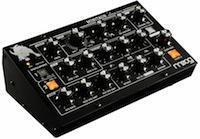 Moog Minitaur
Tabletop Synthesizers
Typically analog or digital-analog hybrids, tabletop synthesizers are sound modules that provide you with the hands-on control of a synth in a convenient, keyboard-less chassis. They're great for the kind of knob-tweaking, real-time manipulating, on-the-fly artists that are constantly pushing the envelope of electronic music. As a result, tabletop synths are found everywhere from DJ rigs to scoring studios. Best of all, the sound they produce is usually analog, which no plug-in can provide.
---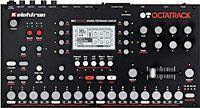 Elektron Octatrack
Samplers
By definition, a sampler lets you record, manipulate, and play back snippets of audio. Until recently, they've been a mainstay of the electronic and urban music production worlds, though some seasoned producers still prefer samplers. These tabletop devices differ from typical sound modules; they normally feature a set of finger pads you can use to play back sounds without an external controller. Recently, several hardware-software hybrid samplers have hit the market, which provide traditional hands-on workflow and DAW-style flexibility.
What to Look For…
Sound Set:
There isn't much sense in having two units with the same sounds. Make sure that the sounds inspire you. Also, check how many preset sounds are onboard. Building every sound from scratch may be frustrating, so an extensive collection of presets can be invaluable.
Multitimbrality/Polyphony:
Ask yourself how many sounds you need this module to produce at once. As a general rule, most digital sound modules will be multitimbral, allowing you to play more than one sound at a time. They'll also have plenty of polyphony to handle busy sequences. Analog-modeling synths, however, can be erratic. It's always worth checking out those specs, just to be safe.
Types of Connectors:
It's generally a good assumption that a sound module will have MIDI In/Out, but tabletop synths may be CV only. USB or some other computer connectivity can be beneficial if your computer is part of your rig. You should also check out the audio connections.
Control Capabilities:
Since one of the advantages of sound modules is their small size, the controls they do have will play a huge role in how they operate. If you're planning to manipulate everything from your keyboard controller, then a rackmount unit is fine. However, if you're looking for more extensive, hands-on control, then you should consider a tabletop model.
Storage:
Depending on the module, space for saving your presets and storing samples may be limited. Nonetheless, many modules these days will even let you save presets to removable media, which can be beneficial. Look into the user memory before you commit to a module or sampler.