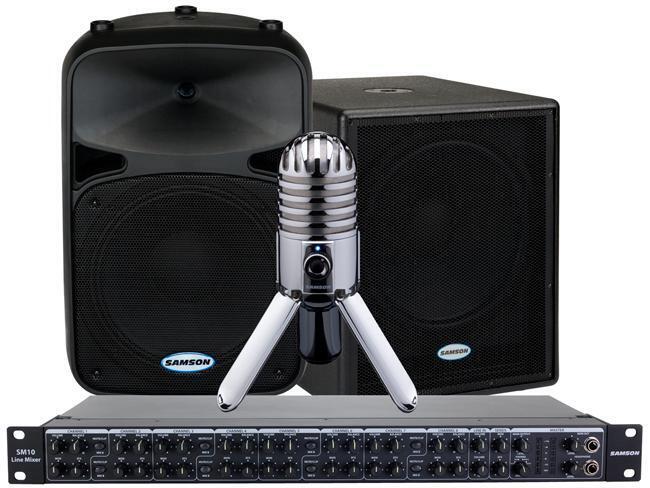 Whether you work with live sound, studio audio, or video, you'll love what Samson is bringing to the table this year. Let's start with the Auro speaker line, which includes the 12″ D12 and the 15″ D15. These passive PA speakers each include a high-quality high-frequency compression driver and are pole mountable. Both can handle up to 400 watts of power and are very easy to transport. Pair either of these amazingly affordable speakers with the active Auro D1800 sub, and you'll enjoy a very portable, big-sounding system.
When you're working with the front end of your rig, you need all the space-friendly convenience you can get. That's definitely what Samson's SM10 line mixer gives you! The SM10 packs 10 channels into a single rack space. Each channel includes a balance control and 1/4″ stereo line inputs; two of the channels also offer XLR inputs. It's easy to patch outboard gear into the SM10, thanks to onboard aux sends.
Does your studio setup have that "cool" factor? Now you can get it, with the distinctive Meteor Mic. This large-diaphragm USB condenser microphone features retro-futuristic styling, integrated folding legs, a built-in headphone jack, and a volume control. In addition to the latency-free monitoring, you get fantastic sound quality.
Want to find out more about all this great Samson gear? Call your Sweetwater Sales Engineer today!