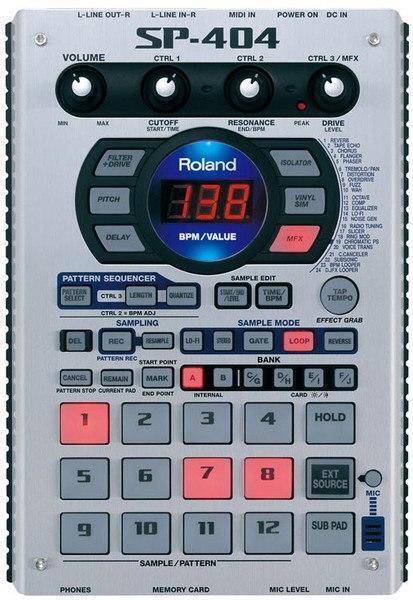 Easy sampling, loads of sound effects, live playability, and the look of a military code-breaking device.
Easy sampling, loads of sound effects, live playability, and the look of a military code-breaking device; the SP-404 is a great little hit box!
You have to admire the Hummer-esque look of this unit. The SP-404 sports a brushed aluminum skin, large rubber pads and knobs, and a round display that pulses in blue light to the tempo of your beats. All the controls are clearly labeled and arranged logically. The buttons light up for use in dark venues and just look neat. It feels very rugged and stable under the most animated button mashing. And the large LED display gives you information like BMP, or effects settings while you are performing. This would fit perfectly between your turntable and DJ mixer.
Setting the SP-404 up is easy. It has RCA stereo inputs for turntables (there is also a ground screw), CD players, or any RCA sound source. There is a " jack for an external mic if you don't want to use the built-in mic. CD-quality sound pours out of the SP-404 through a pair of stereo RCA jacks, a perfect setup for the typical DJ mixer. And there's a headphone jack for those late night beat programming sessions.
Sampling couldn't be easier. You press REC and the available pads light up. Press a pad and REC starts to blink. Aim the built-in mic at the sound source (or start your CD player) and hit REC again to finish the process! Do this a few times and you have a full kit of sounds to make beats with. But it doesn't just play back samples. Roland has included 29 digital effects to apply to both the samples AND your external sound source! Most of the effects are familiar beat effects like Ring Modulation, Pitch Transform, Filtering, Lo-Fi, and Noise Generation. You also get the requisite Distortion, Reverb, Chorus, Flanger and more. My personal favorites include Vinyl Scratch, and DJFX Looper which slices up your sample in real time like a veteran DJ. All of the effects can be manipulated live with the three parameter knobs. You can record the effects to individual samples with the "resample" function. Just tune in the right effects and the SP-404 can copy your sample to another pad with the effect recorded. Once you have your sounds the way you want them, you can create patterns and assign them to the pads as well. Now you have backing beats, and the ability to trigger individual hits! Save it all on fast CompactFlash cards and you never have to worry about reload times and lost sounds.
Use the SP-404 as a drum module in a band. It can be triggered via MIDI. Use it in film production. You wont have to transfer sounds from your recorder to your project, just record and play them on the SP-404. Fire the Foley guy! Okay, don't do that, but give him an SP-404 and increase the number of sounds he can do. You don't have to be a DJ to appreciate the versatility of this unit. Anyone needing high-quality sound effects triggering can benefit from the SP-404.