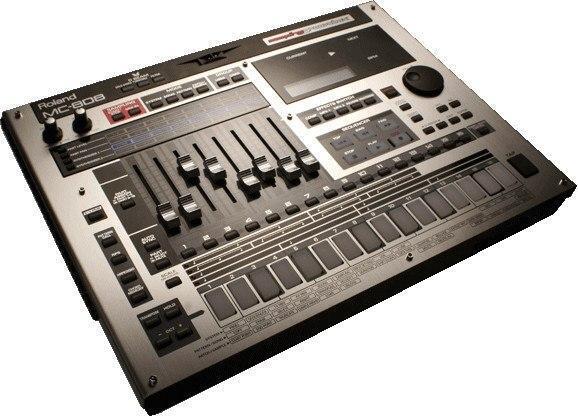 I am very impressed with the MC-808. The sounds, ease of use and incredible features make this a great tool to create music with.
Being a guy who prefers computer sequencing and sampling I was a little apprehensive to try a pattern-based groove-box. But after a few minutes of playing with the Roland MC-808 I must say that not only was I grooving with this groovebox, but I was also creating some really cool music.
The first thing that impressed me was the quality of the sounds. Roland has recruited some of the top producers in the business to contribute their original sounds and patches to the MC-808. The result is a cutting-edge original sounding fresh array of sounds you can use on your own productions. That is certainly a great plus to this groove-box but what if you want to sample your own sounds? The MC-808 has a built in stereo sampler that ships with 4MB of RAM that can be expanded to 516MB. You can sample and edit any sound or change the existing sounds and resample them.
But wait – it gets even better! As I was playing one of the presets I noticed some of the faders were moving. "Oh no you didn't!" Yes, Roland has done it again with the creation of the world's first groovebox with eight touch-sensitive moving faders. Now you can program and recall not only your fader moves but also panning and filter changes in real time. This is a great feature for live performing. With one glance at the MC-808 you can see your levels and grab a fader and not worry about returning the level to its original location.
As I kept piling on the parts I noticed that I never ran out of notes because of the 128-voice polyphony. This is really an important feature and I am very happy that Roland did not skimp on this. Another cool feature is the D Beam controller. This baby allows you to move your hand up and down above the D Beam and control up to three parameters. The first is the pitch of a solo instrument, the next one is a turntable mode where you can slow down or speed up the song, and the third is a filter. I was having a lot of fun with this feature and I am sure DJs will really appreciate this function.
There are effects like four different reverbs and a compressor. There is a Mastering section that has a 3-band compressor. My favorite feature was the sample and patch editing software for Mac or Windows. After you hook up your MC-808 to your computer with the supplied USB cable and install the included software you will get a full-screen color display and will be able to edit just like the big boys do. This really makes it easy to edit, transfer and assign samples and patterns to your MC-808. You can save them to your computer hard drive or to the built-in CompactFlash slot that will hold up to a 1GB CF card.
All I can say is I am very impressed with the MC-808. The sounds, ease of use and incredible features make this a great tool to create music with. I would recommend the MC-808 to any DJ, dance, and hip-hop producer or anyone who wants to create music with an easy-to-use, self-contained music production system. Roland has done it again!