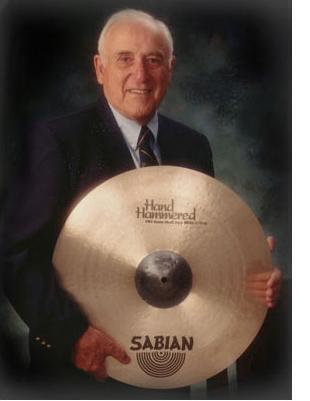 One of the leading figures in the percussion industry passed away on March 27, 2013. Robert "Bob" Zildjian died at the age of 89. Born in 1923 in Boston, Zildjian was descended from a line of ancestors who included the founders of the original Zildjian company in Turkey. His father, Avedis Zildjian apprenticed at the company cymbal factory in Turkey and relocated to the U.S. where he re-established the business in a Boston suburb. Bob Zildjian began working for the company at an early age and also played in local dance bands. He graduated from Dartmouth in 1948. He and his brother Armand expanded the Zildjian company greatly.
In 1967, Bob was able to negotiate the purchase of the K. Zildjian operation from relatives, uniting both A. Zildjian and K. Zildjian under one company. He also opened a manufacturing facility in New Brunswick, Canada, which allowed Zildjian to export high quantities of cymbals internationally without paying the high protective tariffs to which U.S. factories were subjected.
In 1983, Bob and Armand Zildjian split the company, with Armand maintaining ownership of Zildjian and Bob taking the Canadian factory, where he founded the Sabian brand. He was the president of Sabian from 1983 until 2006, when his son Andy assumed the post.
Our condolences to our friends at Sabian and to Bob's friends and family.