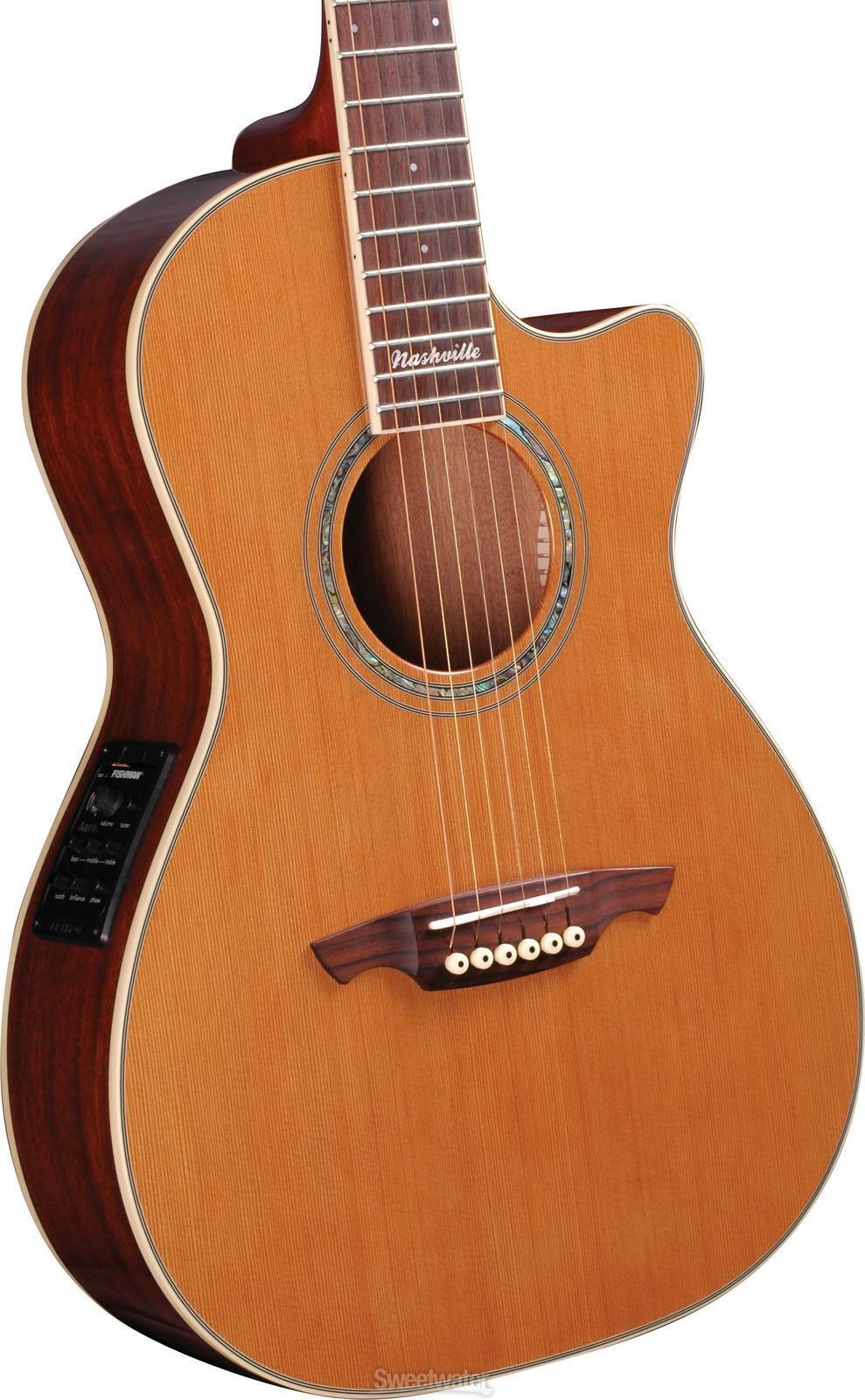 Even if you've never heard the term "Nashville tuning," you've probably heard Nashville-tuned acoustic guitars – Rolling Stones' "Wild Horses," anyone? Maybe "Dust in the Wind" by Kansas? The list of songs where Nashville-tuned acoustic guitars are used is long. Next time you're listening to music, pay close attention; when you think you're hearing a 12-string guitar, you may actually be hearing a Nashville-tuned guitar.
That's all well and good, but what exactly is Nashville tuning, and why is it used?
Nashville tuning uses standard-tuned high E and B strings, but the E, A, D, and G strings are all replaced with much lighter strings and tuned an octave higher than normal. The end result is similar to a 12-string guitar that's had the six regular-tuned strings removed. (Here's some trivia: sometimes Nashville tuning is referred to as "high strung," though the two terms aren't interchangeable; "high strung" uses a standard-tuned G string and is used to play some varieties of African folk music.) Nashville-tuned guitars are often used in (as you might guess from the name) Nashville studios to add shimmer and sparkle to rhythm tracks and to create the effect of a 12-string guitar when combined with a regular guitar. One advantage is that a 6-string Nashville-tuned guitar is a heck of a lot easier to play than a 12-string, allowing for more intricate playing and easier fingering and picking or fingerpicking.
For many years, guitar players have restrung standard acoustic guitars to Nashville tuning, substituting lighter gauges for the lowest four strings. But, this approach has problems:
If you have only one guitar, then you have to restring it to Nashville tuning, then restring it again, back to regular tuning.
The lighter strings used for Nashville tuning often don't intonate well on a standard guitar.
The nut slots aren't cut correctly for the lighter strings.
The neck relief may need to be adjusted for the lighter-tension strings.
Guitars intended for regular tuning are braced to support high tensions. The lighter strings used for Nashville tuning may not be powerful enough to truly activate the resonance of a guitar that's braced for normal strings.
Now, Wechter Guitars has created the perfect solution to these problems: the Wechter Nashville model guitar, a dedicated Nashville-strung instrument. There are actually two versions of the Wechter Nashville: the Nashville Special Elite Cutaway, which has a cutaway and built-in Fishman Presys+ pickup/electronics, and the Nashville Special Elite, which is a traditional all-acoustic design without a cutaway or electronics. Both models feature a mahogany back and sides, a solid cedar top, and a nato neck with a rosewood fingerboard. The guitars have scalloped bracing, an abalone rosette, and a gloss finish. Both models include a nice hardshell case.
I received the model with the cutaway and electronics for review. The guitar is small – similar in size to a parlor guitar. It has been specifically designed to provide balanced sound for the custom-gauged light strings. The Nashville Special Elite Cutaway produces wonderful tone, with beautiful sparkle, but no harshness, thanks to the warm cedar top. The frets are finished using a Plek Pro system, which results in perfect action and intonation. (The Plek Pro is a computer-controlled system that analyzes the guitar then uses robotics to finish the frets to perfection.) Because of the Plek-ing and the excellent setup, which are done in Wechter's U.S. shop, you can play chords all the way up the neck without a problem – and the guitar is so comfortable and well set up that the full range of the fretboard is usable. When you get way up there, it's easy to create chiming voicings or even mandolin effects. There are lots of possibilities to be explored with Nashville tuning besides doubling regular standard-tuned rhythm parts. The chord voicings you play can be fascinating – even "normal" chords sound very different, thanks to the octave displacement of the lower four strings.
Above all, the tone of the Nashville Special Elite is angelic. Acoustically, both models offer plenty of projection and clarity, and can keep up with a standard-tuned guitar for volume output. Plugged in, the tone of the Nashville Special Elite Cutaway is solid and natural. The Presys+ system offers EQ and an antifeedback filter – even a built-in tuner – so you can optimize the tone to your preferences and the performance situation.
Whether you use it for doubling regular-tuned guitar or as a solo instrument creating innovative sounds, the Nashville Special Elite shines. At this price, it's really a no-brainer: guitar players will want one for their arsenal (why bother restringing an acoustic guitar when you can have this purpose-designed, dedicated instrument?), and studios should have one to offer their clients.
This is a great new instrument; once you try it, you'll be hooked!