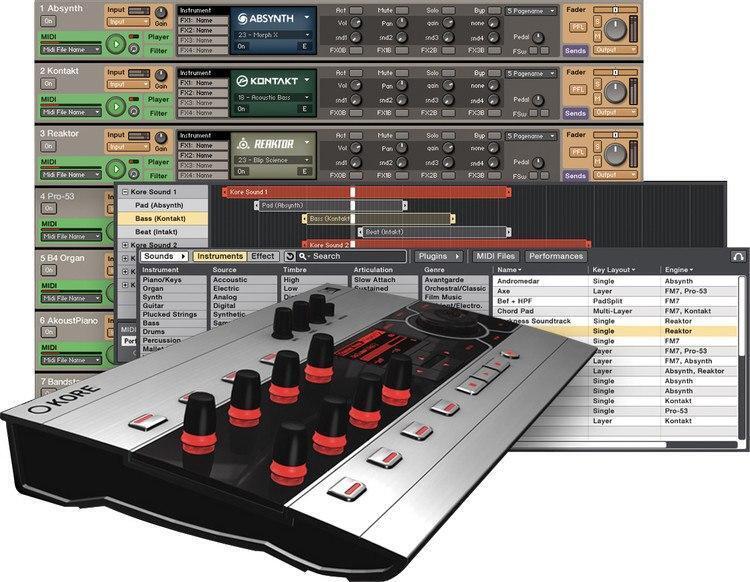 Musikmesse is Europe's version of our NAMM Show. It takes place in Frankfurt, Germany and runs from March 28th through the 31st. Here's a quick overview of just some of the items that have already been unveiled at the show. We'll have more news tomorrow.
Native Instruments announced KORE 2, the second generation of its advanced multi-functional host system, which significantly extends and refines the innovative concepts introduced and established with the original. At the same time, it expands its role by directly integrating powerful sonic capabilities with a comprehensive sound library based on integrated NI instrument engines. While remaining an open platform for all software instruments and effects, KORE 2 now includes its own powerful sound capabilities, with 500 specially designed studio-quality KoreSounds, each with multiple sound variations, covering all relevant musical styles and genres. KORE 2 will be available in June 2007. Details regarding upgrade and update conditions for owners of KORE 1 will be announced at a later date.
Native Instruments also announced a new controller compatibility program that will make it easier for DJs to find the best possible performance controller for their TRAKTOR-based setups. Selected digital DJ controllers will now be labeled "TRAKTOR Ready." As part of this program, TRAKTOR 3 LE is now shipping as the standard DJ software for a wide range of digital DJ controllers from renowned manufacturers. Hardware controllers that are labeled "TRAKTOR Ready" are guaranteed to be fully compatible with TRAKTOR 3, and to meet certain quality and functionality requirements. What's more, every copy of TRAKTOR 3 LE can be upgraded to the full-featured TRAKTOR 3 at a special price.
BIAS, Inc. announced that its Master Perfection Suite, a powerful collection of six pro audio plug-ins, is now shipping for Mac OS X, offering 100% native Universal compatibility for both Power PC and Intel-based Macs. Initially introduced and still included as part of Peak Pro XT 5, the Master Perfection Suite is aimed at musicians, recording and mastering engineers, audio and video editors, sound designers and other audio professionals. This value packed plug-in bundle includes: Repli-Q (spectral matching), PitchCraft (pitch correction/manipulation), Reveal (analysis), Sqweez-3 & -5 (multi-band dynamic processing), SuperFreq (paragraphic EQ), and GateEx (gate/expander). Registered users of Master Perfection Suite may download the version 1.1 update at no charge from the BIAS web site.
Ableton and Cycling '74 have entered into a strategic partnership, forging a unique alliance between two dynamic audio/video software companies. The two will join forces to create new software products for the creative community, leveraging their skills, technologies, and combined thirty years of experience.
Akai Professional has introduced their new USB/MIDI performance controller: the MPK49, which is designed to unleash musical creativity on-stage or in a home studio setting. The MPK49 builds on the huge success of the MPD24 by combining a high-quality, 49-key, semi-weighted, aftertouch-equipped keyboard with 12 MPC-style drum pads. Forty-eight total pads are accessible via four pad banks and all feature the popular MPC Note Repeat function and Swing parameters. The MPK49 performance controller also features its own built-in arpeggiator for making quick creative riffs. This makes the MPK49 an ideal solution for anyone wishing to have powerful hardware control of their DAW, software plug-ins, or virtual instruments.
Alesis, the world's leading manufacturer of affordable pro audio equipment and studio electronics, has introduced the iMultiMix 8 USB Mixer with professional mixing and direct-to-iPod recording. It features a mounting dock to enable recording directly to any 2nd through 5th generation iPod. Unique to its class, the iMultiMix 8 USB is the world's first mobile recording mixer with iPod transport controls and a control wheel built right into the surface for complete control of the iPod while it is being docked in the mixer. Mac OS and Windows users can connect to the iMultiMix 8 using USB for direct to computer recording. The iMultiMix8 also offers eight analog inputs, one hundred 28-bit effects, phantom power, and two switchable mic/line/guitar inputs.