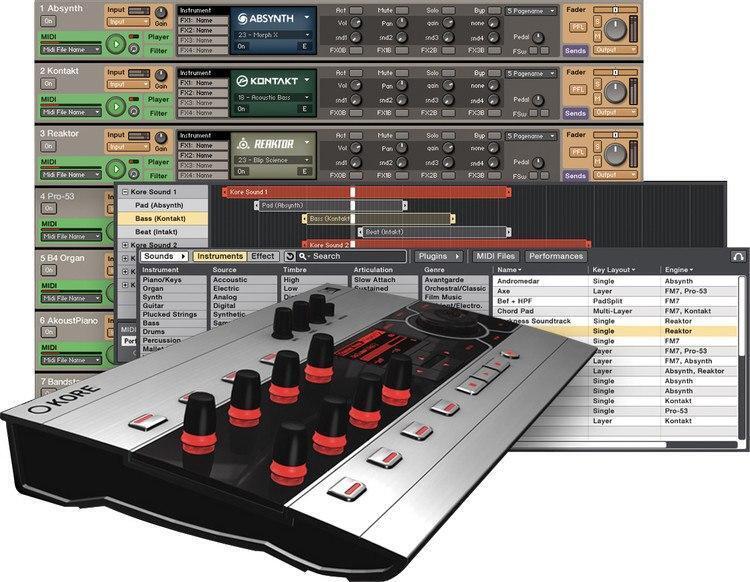 Kore takes so much of the hassle out of using soft synths and effects plug-ins.
I remember seeing Native Instruments Kore at the last NAMM show, and being intrigued.here was a product promising something different! But would NI deliver? I was fortunate to get my hands on a review copy of Kore a few weeks before the product started shipping.
Kore is a combination of hardware and software. The hardware is USB 2.0-compatible, combining a 2-in/4-out audio interface, a 1-in/1-out MIDI interface, eight encoder knobs and eight switches, Input, Phones, and Output level controls, transport controls, and a LCD screen and navigation buttons. The Kore software has two flavors: stand-alone and plug-in. There are several aspects to the software: It can serve as a host for other plug-ins, both soft synths and effects. There's a browser/database with refined search capabilities for sorting through sounds and effects. There are built-in effects. And there are tons of sound design and performance features.
The idea is that Kore becomes the universal user interface for all your plug-ins. Whether you're using it stand-alone or as a plug-in within a host DAW, Kore loads the other plug-ins you want to use, and provides a standard interface. This works seamlessly with Native Instruments' plug-ins. You can also load and use other manufacturer's plugs in Kore.
Basically, this "universal interface" idea, combined with the Kore database, allows you to just deal with sounds. So rather than loading up a synth plug and trying to find a bass patch you like, go to the browser, and start clicking keywords: "bass," "fat," "bright," "synth," until you've narrowed the selection down to a sound that matches all those keywords. Double-click that sound, and the plug-in (or combination of plug-ins) that creates it loads in the background. Simple!
There are two levels to Kore: The first is Sounds, made up of soft synths and/or effects plug-ins and/or Kore's built-in effects. At this level, you can edit the plug-ins, set keyboard mapping, velocity curves, etc. On top of this is the Performance level. Here you can split and layer soft synths, assign global effects plug-ins, create multitimbral setups and mixer routings, and so on.
Installation was straightforward. Kore requires low overhead – it took about 5% of my dual 2GHz G5 Mac when it was idling. The hardware works great. The knobs are touch-sensitive, and feel solid. You can do pretty much everything from the control surface; great for live performance where you don't want to be staring at a screen, or when your computer monitor gets cluttered with windows.
There's loads of power for building sounds, but it's not hard to navigate around. I worked through the two tutorials (highly recommended) and was soon assigning parameters to control knobs, customizing the operation of the hardware, building splits and layered sounds, adding effects, and having a great time! It wasn't long before I truly was thinking in terms of sounds, not even caring what plug-in instruments were loading to play those sounds.
Everything in Kore can be saved into Presets, at both the Performance and the Sound level. When Kore is a plug-in, all settings and configurations are stored/recalled with the host DAW's song file.
For live performance you can set up a stand-alone Kore Performance with the synths and effects you need for a set. Create Presets to utilize the various synths as you need them for songs.
For composing, I made a stand-alone Kore Performance containing soft synth sounds for a piece I was composing. Using Apple's IAC bus, I connected Sibelius and Finale to Kore – and the sounds I needed were right there!
For sound design, it's never been easier to meld instruments and effects; you have control over ranges, crossfading, velocity curves, transposition, panning, volume, routing, and way more.
Finally, for sound management: Have you ever struggled to find the soft synth patch you want? Kore makes it easy.
Get this: You can load Kore as an Audio Units, VST, or RTAS plug-in. Then you can load Audio Units and VST plug-ins into Kore. I used AU plugs in Nuendo, VST in Digital Performer and Logic, and VST and AU in Pro Tools. Cool!
Presets can save the on/off state of plug-ins. This allows you to have the plug-ins and instruments you need active, while turning off others but keeping them loaded – huge for maximizing CPU power!
Native Instruments has created an amazing tool with Kore. It takes so much of the hassle out of using soft synths and effects plug-ins. Plus it provides tons of sound design and performance power. And it's a plug-in wrapper. And it provides a universal user interface that's easy to work with. And it's an audio/MIDI interface. I wish there were room to really get into all the possibilities with this product, because it's something special. Let me put it this way: If you use a Mac or Windows PC for music, you need Kore. It's that simple!