Why Choose Music Man?
It doesn't matter if you play guitar or bass, or which instrument model you choose. When you get a Music Man instrument, there are certain things you can just count on. Here are some of the unique Music Man innovations that are sure to make every one of your performances a great one.
Commitment to Quality — and Your Satisfaction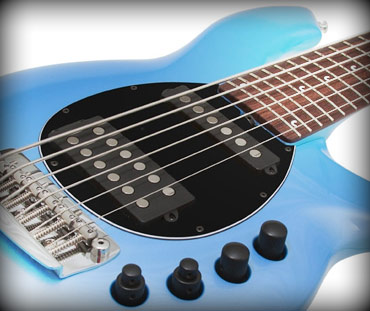 Since the mid-'80s, Ernie Ball has been crafting Music Man guitars and basses in their San Luis Obispo, California factory. When you get a Music Man in your hands, you'll immediately sense the passion for quality that went into it. Premium components such as Schaller tuners and custom-wound pickups show that while Music Man instruments are beautiful, they're built with performance in mind. Their bolt-on necks use six bolts and promise incredibly precise alignment with no shifting. A Music Man is one instrument you'll want to rock for a lifetime.
One of the Most Comfortable Necks You'll Ever Play

Many Music Man guitars and basses sport an unpainted neck and are designed to give you an incredibly smooth playing experience. Music Man treats their unpainted necks with a special blend of gunstock oil and wax, giving the wood the treatment it needs while giving your hand a fantastic foundation for any type of playing. (But if you prefer painted necks don't worry, Music Man has quite a few models with those too.)
Innovative Truss Rod Adjustment Wheel for Easy Fine-tuning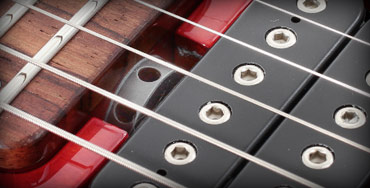 Music Man guitars and basses feature their innovative truss rod adjustment wheel, which makes it easy to fine-tune the neck. Just take anything small such as an allen wrench, nail, small screwdriver, etc., and poke it into the truss rod adjustment wheel. Turn the wheel a bit at a time until your neck feels just right, and your instrument will be ready to rock. Hey, if you're on a world tour and constantly exposing your instrument to varying temperatures, humidity levels, and such, you'll need to make some adjustments once in a while. When you do, you'll appreciate how easy it is to tweak the neck on your Music Man.
"The Game Changer" Electronics Give You
Entirely New Ways to Create Your Tone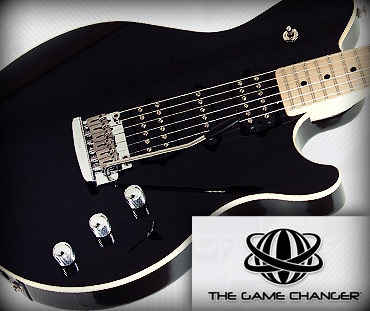 If you really need complete control over every aspect of your tone, choose a Music Man Game Changer guitar or bass. Use the Game Changer web app or iOS app to switch your pickups between humbucking and single-coil modes, put them out of phase, choose series or parallel wiring, and more. Best of all, you can save all of your favorite settings for easy recall later, and even share custom tones with other Game Changer players.
Patented Compensated Nut Gives You
Incredibly Precise Intonation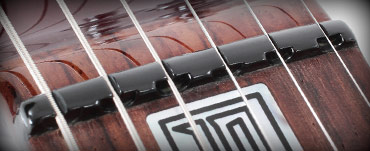 Every Music Man guitar or bass with a fixed bridge also has their patented Compensated Nut, and you'll hear the precise intonation across the entire neck. As Music Man describes it, the Compensated Nut gives each string "an individual intonation pocket that slightly changes the effective string length, causing notes that traditionally play sharp to be more in tune." It's just another way your Music Man guitar or bass will help you sound your best.
Silent Circuit Gives You Better Single-coil Tone

Many Music Man guitars and basses that have single-coil pickups also have their innovative Silent Circuit technology. This active circuit eliminates the hum and buzz normally associated with single-coil pickups. You get all of the punchy, snappy tone you want with whisper-quiet performance. The best part is that even though it's an active circuit, you won't lose your entire instrument signal if the battery dies during a performance.
Music Man Has a Solid History
of Innovation and Quality
Music Man guitars and basses have been staples in the music scene since their introduction in the '70s. In fact, some of the world's best-known guitar players have their own signature Music Man models. Always striving for a better instrument, Music Man introduced the first production active EQ in basses and guitars, unique tuner placement, and much more. Musicians across a wide range of musical genres have played Music Man guitars and basses over the years including Steve Morse, Albert Lee, Tony Levin, John Petrucci, Steve Lukather, Flea, Dave LaRue, John Myung, and countless others. You'll immediately know why as soon as you get one in your hands.