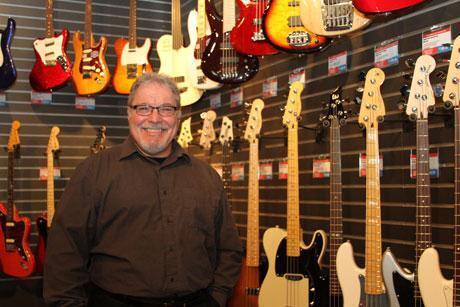 Name: Mark Stein
Position at Sweetwater: Sales Engineer
Education: Associates Degree as an electronics technician
Where are you from originally? Fort Wayne, IN
What was your occupation before coming to Sweetwater? I worked for Eastman Kodak for over 15 years as a field engineer and ultimately as a project manager for the Midwestern states. Working with Fortune 500 companies set the stage for my career at Sweetwater.
Why did you first apply for a job at Sweetwater? I was a Sweetwater customer long before I came to work here, so I've always been aware of Sweetwater's high level of customer service. After working for many years in an award-winning service department, Sweetwater was the perfect fit for me.
Technical strengths: Twenty-plus years as a performing musician. I've recorded numerous CD projects as a bassist, vocalist, and producer. My background as a field engineer and project manager helps me meet my customers' needs beyond the music-related issues.
Instruments you play: Guitar, electric and acoustic bass
Gear you own: Avid Pro Tools Mbox Pro, with a host of plug-ins; Focal and Yamaha monitors; Apple iMac and Windows PC; ROde Bluebird, NT1a, NT4, and NT1000; AKG D5; Fender Stratocaster; Gretsch Rancher acoustic; Lakland 55-94 Deluxe bass; Music Man StingRay 5 fretless bass; Fender Geddy Lee Jazz Bass; Ibanez SR5000EOL bass; fiberglass upright bass; and Pigtronix, MXR, and BOSS pedals
Family info: My wife Diane and I have two cool grandkids who like to play with all the gear in the studio. We have a large and happy extended family across several states.
Other stuff we should know about you: I'm an avid bicyclist. My wife and I love to travel and are especially fond of hiking in our state parks. We try to visit the Rockies every couple of years. We both love downhill and cross-country skiing.
Personal motto: Do the right thing, especially when no one is looking.
Favorite magazine: Sound On Sound
How would your boss describe you? Old dog that learned new tricks.
What did you dream about doing for a living when you were growing up? I wanted to be a pilot or astronaut, but when The Beatles hit the Ed Sullivan show, that all changed!
Describe the most dramatic situation in which you provided the Sweetwater Difference for a customer: One of my studio customers had a favorite bus compressor fail two days before a critical session with one of Peter Gabriel's vocalists. I worked with the manufacturer to have a replacement shipped overnight in order to save the session.
What in your background prepared you most to help your customers with their audio needs?? As a musician, I bring real-world experience. I know what my customers face, and how to best meet their needs. With my background as a field engineer, I'm able to think from a "system perspective" when putting a live rig or studio together.
What do you enjoy most about being part of the Sweetwater team? Being part of the best sales force in the music industry. I learn something and share something every day with my coworkers.
What is the most important thing you've learned during your time at Sweetwater? Doing the right thing for every customer pays back at least tenfold.