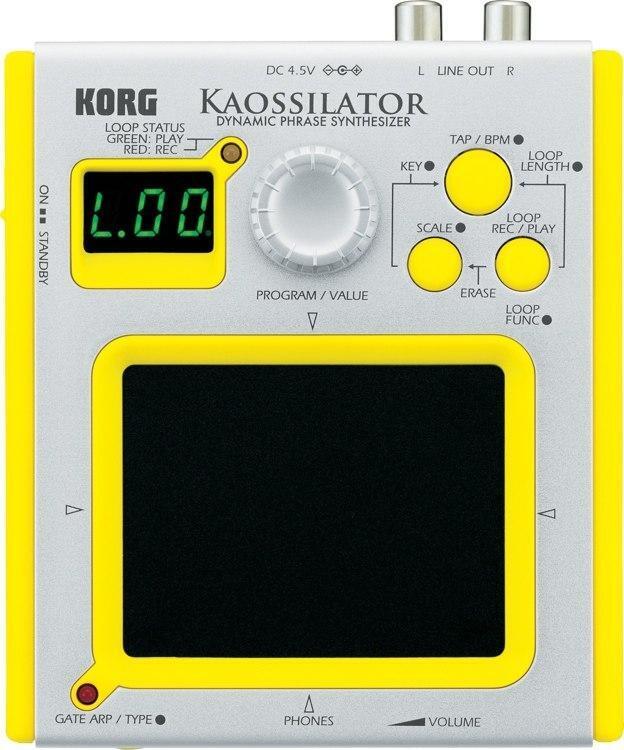 From playing awesome synth leads, to making entire songs, to triggering weird Star Wars-type sound effects, it will keep you entertained for hours.
Korg has fulfilled an untouched niche with the Kaossilator. There are a lot of funny-looking little boxes on the market that perform all sorts of weird little tricks, but none are as fun as the Kaossilator. From playing awesome synth leads, to making entire songs, to triggering weird Star Wars-type sound effects, it will keep you entertained for hours.
When I got the Kaossilator, I unpacked it, popped the included batteries in, and looked around my house for something to plug the phono stereo outputs in to. Not wanting to fire up my mixing board, I started halfway taking apart my stereo in order to get to the phono jacks on the back. My wife caught me and said "Don't do that … plug it into the front of the TV." So that's exactly what we did. Immediately we had synth lead sounds coming out of our blank-screened TV set. Already the usability of this unit was apparent to me: from opening the box to jamming out took about 3 or 4 minutes! All that's needed to play the Kaossilator is a finger. The basis for sound creation is an X-Y pad: moving left to right controls the pitch of the sound, and moving up and down controls a modulation (different on every patch).
After reading the short manual, my wife and I started creating looped sounds, and passing the unit back and forth adding one part per turn. We ended up creating funky little songs and having a blast. The loop function actually varies in length depending on the tempo of the song – one measure at slower BPMs and two measures at higher BPMs. The record function is enabled by holding one button while you play a part, and once looping, a part can be "fixed". After a part has been fixed it cannot be destroyed, which lets you record new parts and then delete them without harming the rest of the song. I found that particular feature to be incredibly useful. If you don't like your new part, you can get rid of it! In order to fix a part, you have to hold the loop/record button and scroll through the menu until you find "fix". Also in this menu is the "clr" option, letting you clear your entire loop and start over from scratch.
When I really dug into this box for few more days, I found a couple of other neat features. One of the first to strike me was the library of sounds available. There are 100 total, divided into seven major groups: leads, acoustic instruments, basses, chords, sound effects, drum hits, and drum patterns (press and hold for a drum loop). The sounds are pretty good in general, and there are a wide variety of them, though the acoustic instruments are certainly not meant to sound exactly like the real thing. The best use of these sounds would be for the electronic music and DJ fields – there are lots of classic synth sounds that would fit right into the middle of a DJ set at the club – though they really can work for rock, singer-songwriter, experimental, and other types of music as well.
Another feature I found was the gate arpeggiator. It could be a great addition to hip hop or electronic music as leads or background tracks. I like where Korg is going, offering another modulation factor so that you can create more unique sounds. Essentially what this does is cut out the sound based on one of 50 patterns. If you are looping, be warned that this effect is applied globally, and cannot be used for just one layer of your loop!
All told, Korg did a great job with the Kaossilator. It's certainly a niche product – DJs looking to add some cool leads or sound effects to their set, somebody using it a songwriting sketchpad, or even somebody in a rock band playing a melody on it right next to guitars and drums. I could even envision recording with it if one of the particular sounds fit a song well. Good job, Korg, on making sure any of us out here with spare time finally have the perfect way to get rid of it!