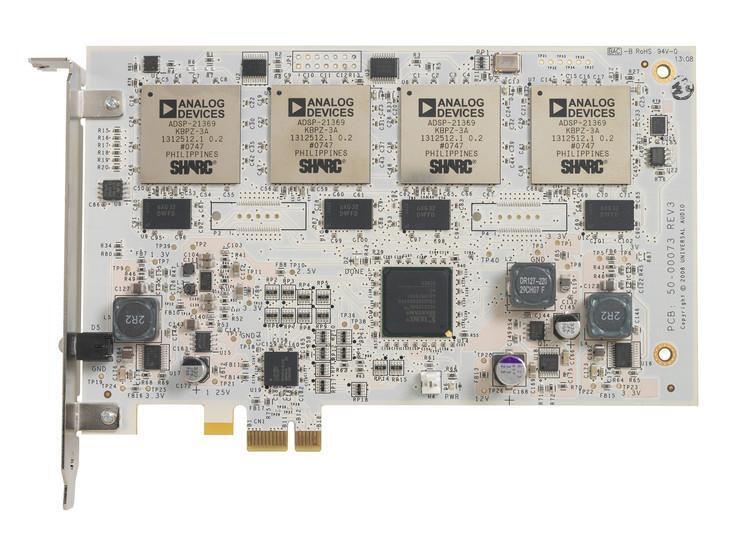 Today's computers are capable of cranking out some serious horsepower – a state-of-the-art Mac or Windows machine can run a ton of tracks and a pile of real-time plug-ins. But, even the most cutting-edge computer can stagger under the load of an array of software instruments or heavy-demand plug-ins, such as convolution reverbs, running at the same time. But, many of the computers in use in studios aren't the most up-to-date models – and those computers may not be up to running the latest software, plug-ins, and instruments.
That's where DSP cards come into play – they help take the load off the computer's CPU so that the computer can handle other chores. Universal Audio was one of the first out of the DSP card gate, with their UAD-1 cards. Not long ago, the company introduced the UAD-2 family of cards, which are far more powerful. There are three models, which are all based on the PCIe computer slot format: the UAD-2 Solo (one DSP chip), the UAD-2 Duo (two DSP chips), and the UAD-2 Quad (four DSP chips). As a basis of comparison, the UAD-2 Solo (with one chip) offers more than 2.5 times the processing power of the original UAD-1 card, running plug-ins on a powerful SHARC DSP chip. A UAD-2 Quad offers up to 10 times the power of an original UAD-1 card!
There's also the latest member of the family: the UAD-2 Solo/Laptop, an ExpressCard version of the UAD-2 Solo card that works with laptops with ExpressCard slots, such as Apple's MacBook Pro. Like the PCIe version of the UAD-2 Solo, the laptop version cranks out up to 2.5 times the power of the original UAD-1 card.
THE PLUG-INS
One of the big advantages that the UAD-2 family has is that all the members run plug-ins created by Universal Audio – and these plug-ins have earned a reputation as excellent plug-ins! The array of offerings includes plug-ins modeled after some very famous hardware, resulting in a list of both vintage- and modern-style processing options (check out screenshots for many of these at the end of this article):
Cooper Time Cube
Empirical Labs EL7 Fatso Jr. and EL7 Fatso Sr.
EMT 250 and Plate 140
Fairchild compressor
Harrison EQ
Helios EQ
Little Labs IBP
Moog Filter
Neve 88RS channel strip, 1073 EQ, 1081 EQ, 31102 EQ, and 33609 compressor
Pultec and Pultec Pro equalizers
Roland CE-1 Chorus Ensemble, Dimension D, and RE-201 Space Echo
SPL Transient Designer
SSL 4000 bus compressor and 4000 channel strip
UAD Cambridge EQ, CS-1 channel strip, EX-1 equalizer/compressor, DM-1 delay modulator, DreamVerb, RealVerb Pro, RS-1 Reflection Engine, Precision Bus Compressor, Precision De-esser, Precision Enhancer, Precision Equalizer, Precision Limiter, Precision Maximizer, and Precision Multiband
Universal Audio 1176, LA-2A, and LA-3A compressors
VCA VU compressor/limiter
The plug-ins run in VST, Audio Units, and (using FXpansion's "wrapper" technology) RTAS formats, on both the Mac and Windows platforms. As a bonus, the ATA Mellowmuse compensation plug-in is included for latency-free RTAS use in any version of Pro Tools.
I have been aware of the UAD cards and plug-ins for years, but seeing Frank Filipetti demonstrate at Sweetwater's GearFest '09 how he was using the UAD plug-ins on a project for Carly Simon really made me want to take a closer look at what these plug-ins can do. Let's dive in!
GETTING STARTED
Installation is straightforward: install the software first, then install the hardware. After installing the software, the computer restarts, then you install your hardware. As mentioned earlier ,there are two form factors for the UAD-2 family: PCIe and ExpressCard for use in laptops. I installed a UAD-2 Quad card, which has four processor chips, in my Mac Pro. I also installed the ExpressCard version, the UAD-2 Solo/Laptop, in my MacBook Pro.
Before you can use the plug-ins, you need to log in to the Universal Audio website and download authorizations for whichever ones came included with your card or for those that you've purchased. At that time, you can also download the current versions of all the plugs. You can also authorize all the plug-ins to run in a 14-day demo mode. The whole process is facilitated by the "UAD Meter & Control Panel" application that's installed on your computer as part of the software package – this app also lets you view and manage the operation of your UAD-2 card. You also use the Meter & Control panel application to download authorizations for any additional plug-ins you might purchase at a later date.
The installation process is easy and went off without a hitch on both of my machines. Using the plug-ins is just as easy. As far as your DAW is concerned, they're just Audio Units, RTAS, or VST plug-ins; you don't have to do anything different than when you load in any other plug-in (just choose the plug-in from your DAW's plug-in menu), and there's no apparent clue that the plug-ins are actually running on a DSP card and not on the computer's CPU.
Where you'll notice the difference is on your DAW's CPU usage meter – it won't move when you instantiate a UAD-2 plug-in! (You will, of course, see the meter go up on the UAD Meter & Control Panel as you add plug-ins.) So, how much can you do with one of these cards? On the Mac Pro I, when I loaded up 24 Neve 88RS channel strips (which include dynamics and EQ processors in one unit) into a Logic session, the UAD Meter showed 22% usage of the UAD-2 Quad card. On the MacBook Pro laptop, 24 Neve 88VS strips used 89% of the UAD-2 Solo/Laptop's DSP power. Depending on the combination of plug-ins you use, you may get way more instances, or maybe a few less instances, but regardless, there's plenty of power available on any of the UAD-2 cards!
THE VERDICT
If you have a slightly (or more than slightly) older computer, then the UAD-2 cards provide a welcome cache of available DSP for running the excellent-sounding (and very authentic) Universal Audio line of plug-ins – adding one of these cards is a no-brainer for keeping your computer cranking in the studio.
But, what if you have a brand-new computer, such as my Nehalem 8-core Mac Pro? The computer has a lot of juice on its own; do you really need more DSP?
There are two parts to the answer. First, you can always use more DSP power, especially if your studio is software centric, and you're using virtual instruments in your projects.
But, there's an even better reason to invest in a UAD-2 card, even if you have a loaded-up, state-of-the-art computer: to run the Universal Audio plug-ins. These plug-ins are simply among the very best around. The analog re-creations are realistic and do a great job of emulating the "real" physical units they are modeled after. I'm especially fond of the LA-2A, the 1176, and the LA-3A, as well as the Neve EQs. The EMT plate may be the best plate simulation going, and where else are you going to find EQs from Harrison and Helios consoles? And how could you live without a modeled Roland Space Echo in your rig? Gotta have it! For mastering applications, and, well, more precision, the Precision series of plug-ins definitely does the trick.
And what if you already have a studio filled with the "real thing" – vintage and modern hardware processors? You'll still find a UAD-2 card to be a powerful addition to your arsenal. Can you ever really have enough LA-2As? Enough Empirical Labs Fatsos? Why not use the hardware on certain tracks, then take advantage of all the instances of plug-ins you can run on other tracks? It's the best of both worlds!
It's probably clear that I've become a fan of the UAD-2 processing cards since I've installed them in my studio. Universal Audio knows just a bit about processing from their years creating cool hardware compressors, mic preamps, and other analog gear. With the UAD-2, all that experience pays off big time, with a powerful platform that runs professional-quality plug-ins.