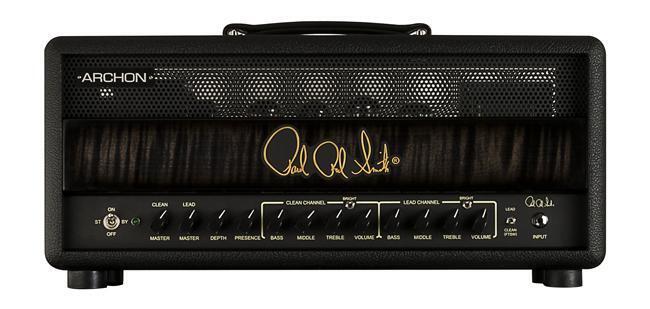 Most guitar amps that can deliver crushing high-gain tones at high volume levels suffer from a similar malady: they're no good at delivering clean tones. The cleans are always a compromise and often end up sounding honky, muddy, and cloudy. The cure for this common illness? The PRS Archon! With the Archon, PRS set out to create an amp that can not only produce a ripping gain-saturated onslaught, but that can also put out a chiming, crystalline, transparent clean sound.
The Archon is driven by six 12AX7 preamp tubes and has four 6L6 power tubes. You can set the power output to 50 or 100 watts. There are two footswitchable channels, each with its own volume (gain), 3-band EQ, bright switch, and master volume controls. But even though the channels have similar control layouts, the voicings are totally different; one is optimized for clean and the other for high gain. There's a master presence control for both channels, and a master Depth control. The Depth control lets you shape the low end exactly how you want it. From tight and controlled like an open-back 1 x 12″ cabinet to huge and chunky like a massive 4 x 12″ — I wish every amp had this control! Around back, you have access to tube bias points (hooray!) and an effects loop, which can be switched in and out from the footswitch.
Though this amp is clearly aimed at metal monsters — there's gain for days, powerful punch, screaming sustain, and massive chunk — that stellar clean channel makes the Archon quite versatile; you could easily cover a jazz or country gig with the Archon! But this amp wants to rock. It's a dynamic amp that will draw the best out of your playing and your guitar. It's a total beast!