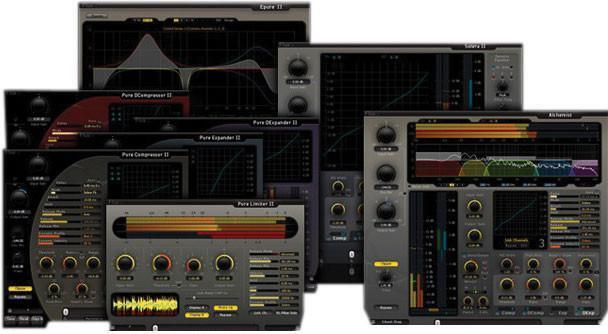 Do you really need another dynamics processor or EQ for your DAW? If you're looking for plug-ins that go one step beyond – or maybe even many steps beyond – then the first part of the answer is yes! And the second part of the answer is Flux. A fairly new company based in France, Flux has jumped into the plug-in world with both feet, and they're making a range of powerful, high-end plug-ins for mixing and mastering applications. While Sweetwater has been carrying these plug-ins for a while now, this is the first chance I've had to install them on my rig and try them out.
I loaded up the Full Pack II, which contains all of Flux's currently available plug-ins: Alchemist, Epure II, Solera II, and Syrah, as well as the "Pure" series, which includes Compressor, DCompressor, Expander, DExpander, and Limiter. The plug-ins support VST, Audio Units, and RTAS formats running on either Mac or Windows. (Epure is also available in TDM/VENUE format.) These plug-ins offer pretty spectacular specs, such as 64-bit floating-point support, up to 8-channel operation, and support for sample rates up to 384kHz. Let's take a look at the individual plug-ins.
Alchemist
At its most basic, Alchemist is a multiband dynamics processor. A state-of-the-art IIR crossover with selectable slopes (18dB/octave to 54dB/octave) with variable corner frequencies creates from one to five bands. Each band has its own compressor, expander, de-compressor, and de-expander, all working in parallel. Extended features include "Angel's Share" and "Hysteresis," both of which control how the plug-in intelligently responds to the input signal's dynamic range content. An Auto Delay allows for zero attack time, and a Dry Mix control allows for parallel processing. A separate section manages transient control (pre or post processing), and there is a soft-knee brickwall limiter, as well as M/S stereo width control. The plug-in also has a built-in A/B morphing system, which allows you to set up two different presets then continuously morph between them under automation control.
For mastering, this plug-in is the obvious choice. It does an incredible job of handling dynamics! But I also found it useful on individual tracks when mixing. I applied it to a solo guitar track that had far too much attack when it was EQ'd; I had no problem bringing it under control with Alchemist!
Epure II
This is a 5-band equalizer that utilizes a proprietary Flux algorithm. Each band has individual bypass and a choice of low-cut, low-shelf, peak, high-shelf, or high-cut filters. Gain for each band is adjustable from -24dB to +24dB, with frequency adjustable over the entire audio bandwidth. Q can be set from 0.1 to 100. Like Alchemist, Epure II allows you to A/B morph between different settings, plus an Invert control flips boost gain settings to cut settings, and vice versa.
I found the control Epure offered to be excellent. But what really caught my ear – or didn't catch my ear – was the transparency of the EQ processing. I found myself having to be careful not to boost or cut too much, since there were no artifacts, only increased or decreased gain. It really is a gorgeous EQ that I loved for mixdown and especially for mastering.
Solera II
To call Solera II a compressor is to way understate what this plug-in can do. There are four processors that work in parallel: compressor, de-compressor, expander, and de-expander, with three release modes (manual and auto, as well as advanced, which has user-definable minimum and maximum settings). Auto Delay provides zero attack time, and like Alchemist, there are Angel's Share and Hysteresis controls auto-controlling the ratio and threshold. There is also a sidechain, but as with everything, it goes beyond – in this case with a built-in 3-band EQ for setting up frequency-sensitive processing. And of course, there's the A/B morph feature.
Solera can do so much, from controlling dynamics to restoring dynamics, from de-essing to intense squashing, without pumping or other artifacts. It's incredibly powerful for any dynamics processing application and offers transparent sound quality. Great for mixing and mastering.
Syrah
The newest plug-in from Flux is Syrah, a "creative adaptive-dynamics processor," according to the company. What this means is that Syrah is designed to intelligently react to the input signal and provde level-dependent processing on the output. To do this, the plug-in uses unique controls, such as "Thickness," "Relax," and "Relax Bass," which are said to each control numerous parameters "under the hood" when the plug-in is used. There's also a Dry Mix control for parallel processing, M/S stereo width control, lookahead, and A/B morphing.
This is a dynamics processor that can handle anything you throw at it, from vocals to bass, drum kit to full mix, and all the way through to mastering. It allows you to "reshape" sounds, fine-tune dynamics, make delicate adjustments, or creatively modify sounds. Like all the Flux plug-ins, it's a tool that you'll want to spend some time getting to know, so that you can explore all its many capabilities.
Pure
The Pure series processors – Compressor II, DCompressor II, Expander II, DExpander II, and Limiter II – are more specialized in their functions. But this doesn't mean they don't offer a tremendous amount of flexibility and control, as well as a world of creative potential. From simple leveling to squashed pumping; noise reduction to full-on gating; and other unique dynamics functions, such as bringing up low-level sounds and restoring dynamics to heavily compressed tracks, these plug-ins can do it. The user interfaces for the first four plug-ins listed above are similar (not a surprise, since they are drawn directly from the individual sections of Solera II) and include all the innovative Flux features: Angel's Share, Hysteresis, A/B morphing, Dry Mix for parallel processing, and more. The Limiter has a more straight-ahead user interface and is intended to be the final link in an audio processing chain, whether you're mixing or mastering.
The Pure series allows you to dig in and address specific needs and problems via a powerful tool kit, but it still allows for plenty of creative control for optimizing and shaping your tracks.
Bonus Material
Just for grins, I also downloaded two freeware Flux plug-ins: BitterSweet II, which is a straight-ahead transient processor taken from Alchemist and Syrah, and Stereo Tool, which offers precise gain and pan control for the left and right channels of a stereo signal, as well as phase and stereo width control. Both of these free plug-ins offer the same stellar audio quality and extended capability of their commercial brethren. I put them to work immediately on a mastering session I was working on!
The Final Mix
To sum it all up, Flux has created an incredibly powerful suite of mixing and mastering plug-ins that combine exemplary audio quality with a ton of extended capability. They'll allow you to take control of your audio in ways you never thought of before. These aren't "models" of vintage items; rather, these are exciting new tools that offer tremendous power – and are a perfect complement to the modeling plug-ins you already own. For a taste of the quality of Flux, download BitterSweet II and Stereo Tool, but be warned: you'll be hooked on the company's products! And that's a good thing, because these plug-ins are truly special.