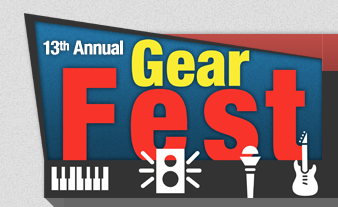 GearFest '14 is the biggest and best GearFest ever, with more of everything, including an incredible list of workshops, seminars, artist appearances, panel discussions, and much, much more. We've posted the event schedule to our GearFest pages at Sweetwater.com — no matter what your into, from guitar to bass, keyboards to vocals, recording to worship sound, DJ to producer, there's a full schedule for you at GearFest this year. We're running up to 11 simultaneous workshops/demos/appearances at once, so this schedule will help you pre-plan your weekend. (Of course, full program guides will be available for everyone during the event, too! You can download a copy now, if you like.)
Still haven't made your plans to attend GearFest? Don't delay, the big event takes place this Friday and Saturday, June 6th and 7th, right here at Sweetwater in Fort Wayne, Indiana! Best of all, GearFest is completely free of charge and open to the public.
Join thousands of music and gear lovers from around there world at GearFest '14!