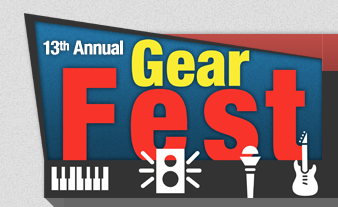 We're less than a week away from the opening of the biggest free, open-to-the-public music gear event anywhere: GearFest 2014! This year we're going way over the top with GearFest — more workshops, more gear, more manufacturers, more demos, more music, more events, more, more, more!
It all takes place on Sweetwater's beautiful campus in Fort Wayne, Indiana. At GearFest you'll be surrounded by musicians, engineers, producers, DJs, pros, amateurs, celebrities…it's a great event for making connections with your peers and for learning from one another. Then there are the workshops, seminars, and events, including our premier Producer's Panel featuring eight of the biggest names in the business. No matter whether you're a drummer, bassist, guitarist, keyboard player, vocalist, DJ, songwriter, composer, recording engineer, live sound engineer, worship team member or leader, or producer, GearFest has something for you!
Then there's the gear…hundreds of manufacturers, a constant stream of clinicians demonstrating products, the chance to get hands on with instruments and recording equipment, the opportunity to get face to face with gear designers and manufacturers; if you're into music gear, then GearFest is the place you want to be!
It all takes place on June 6 and 7, 2014, in Fort Wayne, Indiana. Join us, and musicians from around the globe for two totally packed days of gear nirvana! Travel, accommodation, and GearFest information is available here.