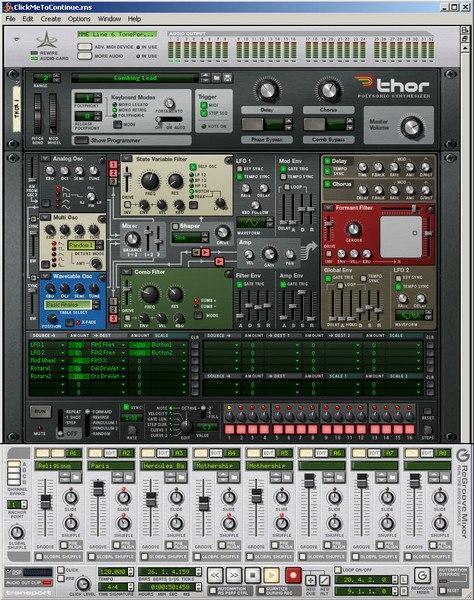 If you're a bass player, here's your chance to win astonishing prizes! Just enter the Propellerhead 2008 Bassline Battle. Just fire up Reason and put together the funkiest, illest, baddest 8-bar bassline and drumbeat combination possible. If your creation makes it through the public and grand jury rating, you may be the lucky winner of an outstanding grand prize from Focusrite, KRK, and Novation!
The grand prize consists of:
Focusrite Saffire Pro 40 – a brand new FireWire audio interface featuring eight of Focusrite's legendary mic preamps.
Novation Remote SL 25 Compact Advanced MIDI Controller – featuring a 25-key keyboard, a huge LCD display, and loads of knobs, faders, buttons, and pads that will effortlessly hook up to your Reason rack using Novation's automap feature
KRK Rokit 5 G2 (x2) and KRK S10 Sub – the Rokit series of monitors have long been a favorite in project studios all over the world, and with the self-powered G2 version, you'll get instant great- sounding monitoring for your Reason rack. Add to that the KRK S10 subwoofer, and you have a fantastic full-range system that will let your hear your latest productions in all their glory.
The Bassline Battle officially opens today, and you have until November 24th to submit your bassline masterpieces. Get all the details about the contest, the grand prize, and follow-up prizes by going to the Bassline Battle page.