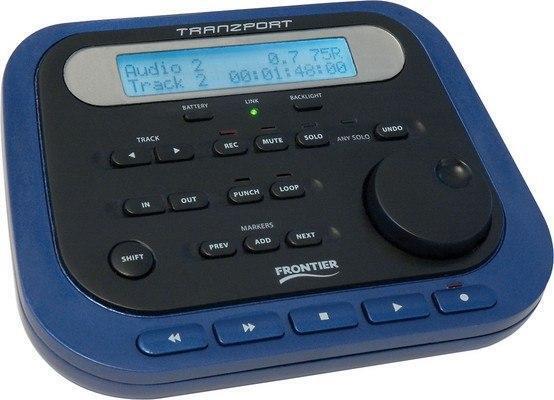 I love it when I can just say, "buy it, it works" in reference to a new product. Frontier Design got the TranzPort right.
Frontier Design has pulled off one of those "That's such a great idea, why didn't someone do it sooner?" coups. I'm talking about TranzPort, a wireless remote controller for DAW software. I've had a TranzPort driving my studio for a few weeks now, and I'm here to tell you, this thing rocks… and best of all, it sells for less than $200!
TranzPort consists of two hardware components: a tiny USB-based RF receiver, and a small remote controller. There are also software drivers. Everything installed easily on my Mac (it's also compatible with Windows 2000/XP). In literally two minutes I was controlling Digital Performer, Pro Tools, Logic, and Nuendo using TranzPort. The controller doesn't require line of sight to operate. In fact, I was able to go in my studio's booth and close the door, and still operate my DAW remotely – it will even work through walls. I was also able to go upstairs and run things from there. Even if TranzPort does lose connection (there's an indicator light that tells you), once things are lined up again, it will pick up right where it left off. No need to power down or restart.
The controller has transport controls, as well as dedicated buttons for track selection, record arm, mute, solo, undo, punch, loop, in, out, and previous marker, add marker, and next marker. There's also a jog/data wheel, and a shift key, which doubles the functionality of the controls. With some programs, such as Digital Performer and SONAR, there's a "native" driver for TranzPort, so all the features are supported directly. With others, TranzPort emulates a HUI or Mackie Control. New programs are being supported all the time; for example, Reason v3.0.3 added support for TranzPort (it worked perfectly for me).
A big bonus is that TranzPort's display can show a level meter for the selected track and location in the song. So you can be away from your computer, set up markers for an area of the song you want to work on, select and arm a track, and see levels on TranzPort – everything you need to track parts. The batteries last a long time; Frontier says up 100 hours of active use. There's an optional mic stand mount and carrying bag.
TranzPort is one of those products that are basically required for every studio. Whether you're tracking yourself (even if you're just pushing away from the computer to track a guitar part or you're standing up to do vocals), you want to give control to a producer or artist, you want to step down the hall for a different perspective on your mix, or whatever, TranzPort lets it happen.
I love it when I can just say, "buy it, it works" in reference to a new product. And I definitely can in this case. Frontier Design got the TranzPort right.