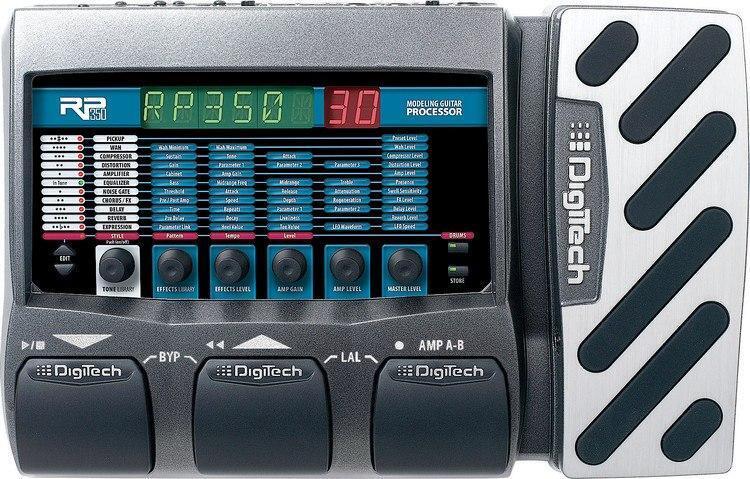 The RP350 is chock full of classic amps and lets you breathe new life into some tried and true stompbox favorites.
Let me preface this by saying that I'm not a big tweakhead, nor am I a fan of multi-effects processors. So you can imagine my surprise when I found myself immersed in fine-tuning and customizing the presets on the RP350, the latest multi-effects processor from DigiTech. Upon first powering up the RP350 (which is built like a tank) I was treated to a spot-on Plexi emulation that screamed classic Marshall. In fact, I found most of the presets were surprisingly usable, and even if you never dive in past the presets, the RP350 provides plenty of sonic firepower.
The RP350 is loaded with a slew of classic stompboxes, from the sought-after Tube Screamer to spacey modulations and delays. I found the delays warm and musical, and the emulations of the legendary boxes were very close, and in some cases dead on. I was particularly impressed with the Small Stone. It sounded very much like the original, and the ability to map the Rate or Color to the built-in expression pedal for real-time adjustments fulfilled a life-long dream of mine. I spent hours over the course of the weekend custom-building effects and amp combinations (you can store up to 70 of your creations).
I found the RP350 was great for mimicking tones from the music in my iPod. I plugged the iPod into the stereo and set about copping guitar tones. Selecting the AC30 amp model and adding a thick tremolo, and I was able to dial in the guitar sound from the Nancy Sinatra classic "Bang Bang." A quick amp change and swapping the tremolo for a rotary speaker, and I was riffing on the Stones' "Let It Loose." I was able to dial in pretty good emulations of practically any tone I desired rather easily. In Edit Mode, you have access to the parameters of the amp (gain, EQ, etc.) and over the level of effects being added to the amp model. It's really a very easy process to dial in custom sounds ranging from classic clean tones to pshechedelic-themed, modulation-filled soundscapes. You can also load your Les Paul or other humbucker-equipped guitar with virtual single-coil pickups or vice-versa for even more tonal options.
Overall, I was very impressed with the quality of sounds available in the RP350. My only real complaint is that while the emulations of the great amps of rock's history sound great, they lack what we love tube amps for: response to picking dynamics. Picking softer yields no real change in the amount of distortion. But considering the RP350 is chock full of classic amps and lets you breathe new life into some tried and true stompbox favorites by mapping effects parameters to the expression pedal, it's still well worth the price of admission.